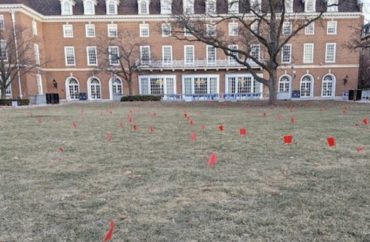 'UIUC admin isn't keeping you safe,' one sign reportedly said
The Graduate Employees' Organization at the University of Illinois Urbana-Champaign planted red flags Tuesday on the Main Quad to memorialize not COVID deaths, but cases of the virus.
"UIUC admin isn't keeping you safe," one sign read, according to The Daily Illini.
GEO is circulating a petition demanding notification "for any in-class or workplace exposures."
The organization wants mandated testing twice a week for all individuals, even those who have taken the COVID-19 vaccines. "We should not have to risk contracting a disabling, deadly disease as we work and learn," the petition said.
The president of GEO reiterated concerns about becoming disabled from the virus. "We have to look at who is being disabled from the disease, whose lives are being disrupted," Lesley Owens told the campus paper. "What instructors are experiencing massive overwork? What undergrad students are experiencing major disruptions to their learning?"
Owens shared some examples of how COVID had affected the university community.
"Unfortunately, I don't believe that the university or the Champaign-Urbana Public Health Department release information about student or employee disablement or hospitalization," Owens told The Fix on Thursday via email. "I do know that a UIUC employee died of COVID in March of last year, though."
"Anecdotally, I know that several GEO members (who are graduate students and workers on campus) have reported Long COVID symptoms," Owens said.  "Some of these folks have had to reduce their involvement in the union's work due to this ongoing illness, and we have heard from several undergrads who have experienced similar ongoing health issues due to COVID."
She pointed the Fix to resources on GEO's petition on "Long COVID." A Mayo Clinic article reports that some people continue to experience pain or shortness of breath months after contracting and otherwise recovering from the virus.
Steve Witmer, the director of the Big Ten university's news bureau, did not respond to questions about the petition on Thursday.
University of Illinois punished a remote student for not getting tested for COVID
Fear about the coronavirus did lead to punishment of a graduate student who did not know he needed to take a COVID test since he never had to set foot on campus
The university tried to expel Yidong Chen but then backtracked and sentenced him to 80 hours of community service for not shoving a swab up his nose when he doesn't come onto campus. The GEO defended Chen.
"Chen must complete 80 hours of community service, two 1,000-word reflective essays, show evidence of successful academic or work history during his year of dismissal and petition to reenter the University after one year," the Daily Illini reported in February 2021. "Chen was also issued a trespass notification which prohibits him from setting foot on University property."
MORE: Educators have an irrational fear of COVID
IMAGE: GEO/Instagram
Like The College Fix on Facebook / Follow us on Twitter