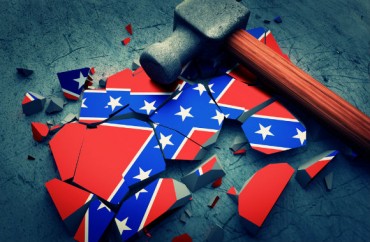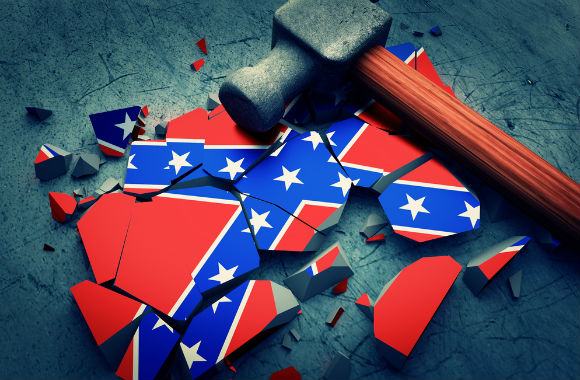 An organization working to stop sales of Confederate flags at New York state fairs has accused Cornell University of being "deeply uncooperative" in the effort.
"Fair for All" has called on Cornell and Cornell's Cooperative Extension to "condemn" the flag sales given that the latter is a sponsor of various New York county fairs.
FFA's Krisy Gashler, a freelance writer for Cornell's College of Agriculture and Life Sciences, says the school's reaction has been "disappointing," according to The Cornell Daily Sun.
"When you ask the vast majority of people of color 'What does the Confederate flag mean?' they say, 'It means I'm not safe here,'" Gashler said.
FFA was founded two years ago and is "modeled after a group" from another county "appalled" by the sale of Confederacy-related materials at a 2016 fair.
According to its website, FFA has three goals: "Challenge bigotry" at fairs "that invite vendors to sell and profit from Confederate flags and other racist merchandise"; hold Cornell responsible for its partnerships despite its "stated commitment to diversity and inclusion"; and "promote community dialog and education about race, racism, and the history and impact of colonialism on marginalized people."
To date, FFA's efforts have led to ten fairs (out of 54) stopping sales of Confederate flags and other products.
Cornell President Martha Pollack said the university "does not control" what the extension chooses to sponsor.
Fair for All's website states that 11 of the 54 county fairs have ties with Cornell Cooperative Extension. Of the total 54, 13 have enacted a policy restricting Confederate flags, but not every fair enforces its policy, according to Fair for All.

One example is the Trumansburg Fair, which encompasses the Ithaca area. Fair for All's website states that the Trumansburg Fair has both Cornell ties and a policy banning Confederate flags. However, [Fair for All organizer Christopher] Hanna claims that he found out during the spring that the fair allows Confederate flag sales.

Hanna sees an issue with Cornell's ties to county fairs and the school's claim to diversity and inclusion regarding its Cooperative Extension workforce.

"Prominently displayed hate symbols foster an unsafe environment not only for community members, but for the fair-workers of color who are left with no choice but to stand in the shadows of traumatizing images," Hanna told The Sun in an email. …

Fair for All's contact with Cornell started in 2018, when it emailed Pollack on May 7, and asked Pollack and members of Cornell's Diversity Council "to insist that the sale of this symbol of racial hatred be ended at county fairs that wish to host CCE and 4H programming."

Pollack responded via email 18 days later, stating that each Cooperative Extension office makes decisions independent of Cornell. Therefore, Pollack said that Cornell "provides general oversight" of these offices, but "neither sponsors nor provides funds for the county fairs."
FFA isn't buying Pollack's explanation. It said in a letter that "[a]nything less than concrete steps to stamp out these practices amounts to institutional cowardice, if not tacit support for the malignant resurgence of white nationalist and neo-Confederate sympathies across the country."
Further, Gashler says free speech counter-arguments don't apply on this issue; as the fairs are governed by private boards, they can "ban whatever they don't want to see," she says.
MORE: Man in Confederate flag hoodie causes brouhaha at American U.
MORE: Teacher tells student his 'Confederate' art project 'promotes racism'
IMAGE: Blade Tucker / Shutterstock.com
Like The College Fix on Facebook / Follow us on Twitter