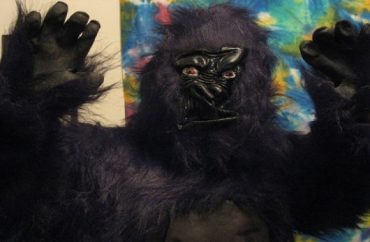 Brown University played host Wednesday evening to a stimulating, er, performance by a member of the "feminist activist group" known as the Guerrilla Girls.
According to their website, the Guerrilla Girls "wear gorilla masks in public and use facts, humor and outrageous visuals to expose gender and ethnic bias as well as corruption in politics, art, film, and pop culture."
The Brown Daily Herald reports Guerrilla Girl "Frida Kahlo" got "laughter and applause" from the crowd as she walked up and down the aisles of Salomon Hall handing out bananas. (Bananas? Uh oh — hopefully no African-American student got one.)
Frida's presentation, sponsored by the Department of Visual Art, began by her pointing out Brown's occupation of "indigenous land and involvement with slavery," followed by a discussion on her group's "history and quest to expose inequality" which began in 1985. Frida noted the GGs "just took the streets" and created their "iconic" posters to help expose discrimination in New York City. "We were just pissed off," she said, and the posters "started public dialogue."
With a huge public response, from interviews with art magazines to commissions with various social organizations, the Guerrilla Girls continued to highlight sexism and racism, as well as tokenism, in the art scene. A common practice that they used was their "weenie counts," in which the group compared the number of male and female nude figures in the Metropolitan Museum. They found that over 85 percent of the nudes were female even though less than five percent of the artists were women, and even fewer of those artists were women of color.

"Now, we hope you don't get the idea that we don't love art. We love art and artists — but let's face it — the art world kind of sucks," Kahlo said, addressing the glaring gender, economic and racial inequalities within museums and the art market.

[…] More recently, the group has spread awareness regarding the dominance of white males in Hollywood with large-scale billboards. They have also created art in support of reproductive rights in movements such as the Women's March and criticized corruption within the American government and presidency.
After Frida read off a list of (allegedly) sexist quotes from men dating all the way back to the time of Plato, the Guerrilla Girl prompted to the audience to engage in a "collective" scream.
Late last year, an art historian vouched for the GGs as an antidote to the "white supremacy" of European art exhibits.
Read the Daily Herald article.
MORE: University offers 'Hip-Hop Feminisms' course
MORE: 'Anti-feminism' posters investigated as a 'hate crime'
IMAGES: clutrvultr, YouTube
Like The College Fix on Facebook / Follow us on Twitter