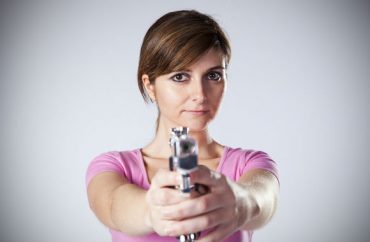 Guns in stadiums might get nixed
Texas has let students, faculty and staff carry concealed weapons on public college campuses for the past several months, and it will soon be joined by one of its neighbors.
Arkansas Gov. Asa Hutchinson, a Republican, signed a "campus carry" bill into law last month that also applies to public spaces in the state.
Georgia also looks likely to enact campus carry, nearly a year after Republican Gov. Nathan Deal vetoed a bill that was liberally sprinkled with exceptions for where students couldn't carry.
Against this backdrop, a national pro-gun student group is accusing Rolling Stone of making several factual errors and misrepresenting its views in a recent article on campus carry.
Doing the SEC's bidding
Arkansas' HB 1249 allows law-abiding citizens and students with concealed weapons permits to carry firearms on public college campuses if they undergo an additional eight hours of active-shooter training.
Public spaces, including the state capitol, restaurants and campuses, are subject to the new law unless individual owners chose otherwise and indicate that guns are not allowed at their entrances.
Private institutions and churches can also opt out of the concealed-carry permissions, and student dorms will remain gun-free zones.
MORE: Virginia Tech student who lived through massacre defends campus carry
One aspect of the new law that might be changed is its application to public sporting events such as college football games.
Soon after Hutchinson signed HB 1249 into law, Southeastern Conference Commissioner Greg Sankey publicly requested an exemption for athletic events.
Statement from SEC commissioner Greg Sankey concerning Arkansas' gun law (HB 1249): pic.twitter.com/WZqPQkSBwT

— Bo Mattingly (@SportsTalkwBo) March 28, 2017
The House and Senate quickly responded by passing new legislation last week that would revoke the right to carry in college athletic events, teaching hospitals and daycare centers, according to KARK. College stadiums would have to submit their own "security plan" to Arkansas State Police for approval, though.
Hutchinson hasn't publicly responded to the newly approved bill as of Sunday. The law he signed has drawn criticism from anti-gun groups including Arkansans Against Guns on Campus, which "opposes all efforts to introduce lethal weapons onto campuses of higher education."
The group told The College Fix there was "no rational argument" that public campuses have a "safety issue" that will be helped with firearms. "Indeed, given the great expansion of gun-carrying into almost all public spaces in Arkansas under this law, it will more likely diminish the safety and security of all Arkansans."
A month left to lobby the governor
Georgia lawmakers followed their peers in Arkansas last week, with the Senate approving HB 280 after the House approved it.
It would allow students with a concealed weapon permit to carry handguns in most places on public campuses, without requiring additional training, according to The Red & Black. Firearms would not be allowed in Greek or student housing or public sporting events.
Though Gov. Deal vetoed a similar bill in 2016, the new legislation addresses his grievances with the past bill by exempting the private offices of professors and instructors. Disciplinary meetings and campus child-care facilities would also remain gun-free.
MORE: Texas students protest campus carry law with dildos
According to the Atlanta Journal Constitution, Deal had insisted on such exemptions in last year's bill but lawmakers then refused to cede ground. He had said a month ago he was "receptive" to allowing guns on campus in some fashion.
The bill will become law May 9 unless Deal vetoes it before then, Georgia Students for Concealed Carry on Campus said in a Facebook post.
He waited until "the last day of the [40-day] consideration period" to veto last year's bill, which is why "we cannot allow ourselves to sit on the sidelines" but must contact Deal's office in support, the statewide student group said.
Arkansas Republican Sens. Charlie Collins and Trent Garner, the bill's sponsors, did not respond to queries from The Fix, nor did the student groups Southern Arkansas University College Republicans or University of Arkansas College Democrats.
Georgia Sens. Bill Heath, a Republican, and Democrat Chris Murphy did not immediately respond to queries Friday. Clayton State University's chapter of the American Association of University Professors and Call to Action Georgia, which oppose campus carry, also did not respond.
Arkansas and Georgia are two of many states looking at concealed carry on college campuses.
At least eight other states, including Idaho and Texas, have ordered public colleges to allow concealed carry on some parts of campus. Last August, in keeping with the flexibility granted colleges under Texas law, the University of Texas adopted campus carry rules that allowed students permission to carry in classrooms and public spaces but not in residence halls.
NRA has never 'disavowed' campus carry
The trend drew the attention of Rolling Stone, whose reporter Ben Wofford spent nine months researching a story on campus carry that was published last week.
Students for Concealed Carry, the national organization, wrote in a blog post that though it didn't regret being interviewed for the story, "Wofford discarded most of what we said and twisted what little he didn't discard."
It listed 23 "errors and omissions" in the story, three of which it said Rolling Stone addressed and two of which it corrected in the online edition after Students for Concealed Carry complained.
Rolling Stone falsely said the National Rifle Association's Wayne LaPierre "disavowed" campus carry after the Virginia Tech massacre, and elsewhere suggests that "the NRA arrived late to the party and then pretended it was their idea all along."
According to SCC, "all of the campus carry bills considered by the Texas Legislature were backed by the NRA. This fact is easily verified by reviewing committee testimony from past sessions."
The reporter made other factual errors about whether police in Texas can ask students if they are armed and the scope of the Texas campus carry law, SCC said.
Rolling Stone cited a Greek-house rifle shooting at the University of Texas in 2011 as one of many accidental shootings at campus-carry universities, when in fact campus carry didn't exist there at the time, it still doesn't apply to rifles or Greek houses, and the shooter intentionally aimed at people.
MORE: Georgia governor vetoes loophole-laden campus carry bill
Like The College Fix on Facebook / Follow us on Twitter
IMAGE: Helder Almeida/Shutterstock