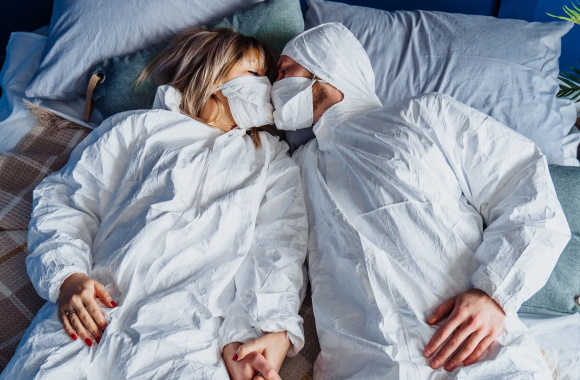 Think of it as a condom — for your face.
Three Harvard University-affiliated doctors have put out a paper advising health care providers on how to counsel their patients about safer sex amid the COVID-19 pandemic. One of the recommendations is to wear a mask if engaging in sex with someone outside of a core self-quarantine group.
The paper was published in the Annals of Internal Medicine in May.
It notes that basically all forms of in-person sexual contact carry risk for viral transmission, and that poses "substantial implications for sexual well-being." But given the importance of sexuality in most people's lives, the doctors state, health care providers should consider counseling patients on the topic.
The paper also suggests that to minimize risk of COVID exposure, when having sex with those outside of a self-quarantine group, "avoid kissing and sexual behaviors with a risk of fecal-oral transmission or that involve semen and urine." The paper also suggests post-sex showers and wiping the area down with soap or alcohol wipes.
The doctors also present safety advice on how to counsel minors who might want to engage in online sexual activity during this time.
Here's the paper with sex risk reduction tips:https://t.co/EZdDMYmLXp https://t.co/AivWgWyelx

— Jack Turban MD 🏳️‍🌈🧠 (@jack_turban) June 3, 2020
Two of the doctors' online bios state they specialize in LGBTQ-related issues. Alex Keuroghlian is associate professor of psychiatry at Harvard Medical School and director of the National LGBT Health Education Center. Jack Turban is resident physician in child and adolescent psychiatry at Harvard Medical School, where he researches the mental health of transgender youth. The third doctor, Kennth Mayer, is a professor for Harvard's School of Public Health.
"The safest approach to sexual activity, according to the researchers, is not having any. Abstinence, they say, is 'low risk for infection, though not feasible for many.' Another option, they add, is masturbation," the New York Post reports.
MORE: LA schools will require students to wear face masks as part of reopening
IMAGE: Daria Ahafonova / Shutterstock
Like The College Fix on Facebook / Follow us on Twitter