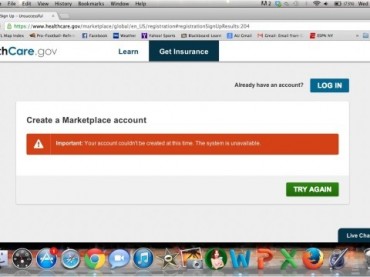 Under the "You Can't Make This Stuff Up" category comes the revelation that on National Youth Enrollment Day for Obamacare, which was Saturday, the HealthCare.gov website underwent scheduled maintenance and could not complete any new enrollments. 
Yes, that's right.
On thee day designated by Affordable Care Act activists as the day in which America's young people were slated to join en masse the federally subsidized and legally mandated health insurance – complete with hundreds of sign-up events across the country – that day is the same one in which the U.S. Department of Health and Human Services worked on the back end of the site, making signups impossible.
Millennials could search the Healthcare.gov site Saturday, but not seal the deal to sign up.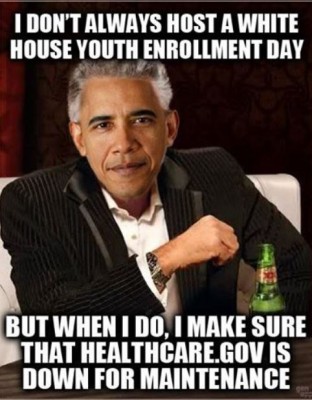 The "hiccup" – that's the popular term for the ongoing and seemingly neverending Obamacare screw ups, right? – "came as a surprise to the White House allies who have been planning Feb. 15 enrollment activities for weeks," BuzzFeed reported.
"Obviously it's unfortunate," Aaron Smith, co-founder of the recruitment group Young Invincibles, had said.
"The correct excuse is 'It's not optimal' as I recall," chimed in one commenter.
The SNAFU was so unbelievable that Generation Opportunity, a group dedicated to highlighting what a trainwreck Obamacare is for young people, promoted the news on social media by first pointing out: "This is not an Onion headline."
Corie Whalen, spokeswoman for Generation Opportunity, said in an interview Tuesday with The College Fix that millions of dollars was spent to advertise National Youth Enrollment Day, yet there was no coordination or communication with Health and Human Services on it.
"It's just so indicative of the incompetence you are seeing in this government," she said.
One of Generation Opportunity's memes put it this way: "You scheduled National Youth Enrollment Day the same day Healthcare.gov is down for maintenance? Please tell me more about how you think you can run a national healthcare system."
It's also the latest in a string of recent Obamacare "hiccups," or as the Media Research Center calls it "serious setbacks." The other two? "Yet another delay in the employer mandate, and a devastating CBO report that claimed (the Affordable Care Act) will cost the equivalent of two million jobs."
IMAGE 2: Generation Opportunity
Like The College Fix on Facebook / Follow us on Twitter