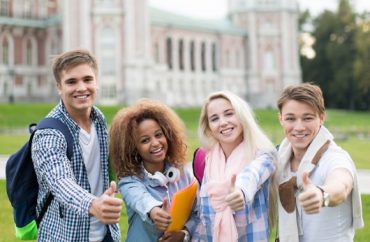 Well, it's been another banner year at The College Fix. We are so grateful to our readers, donors, student journalists, board members, and all the other friends and mentors who help make our operation such a success each and every year.
The College Fix was founded eight years ago on an idea: we report campus stories others ignore; we spot talented young student journalists and mentor them; and we help launch the careers of principled graduates into influential media posts.
It's a powerful combination that tackles bias concerns facing both higher education and the news media.
As a nonprofit, every year we ask those who have read our site regularly or who deeply care about these important issues to pitch in a little to help us continue to fight the good fight. As a nonprofit, a year-end gift is tax-deductible. Big or small, we appreciate all the support we get, it means a great deal to us and I want to thank you in advance for your consideration.
Once again, 2018 showed just how vital a role The College Fix plays in driving the national conversation on higher education. In January, everyone was talking about the professor who claimed white people who do yoga are guilty of "power, privilege, and oppression." You can trace that story back to us. In April, the term #ChristianPrivilege trended on Twitter after we broke the news about a university event that aimed to combat so-called "Christian Privilege." And just this month, our report on a Satanic Club at NC State was talked about on Rush Limbaugh's program.
By the numbers, 2018 was strong for us. We averaged nearly 1 million pageviews per month. We landed stories on the Drudge Report 29 times! Our articles frequently became banter for Fox News shows such as "The Five" and "Tucker Carlson Tonight."
Sometimes our reporting was cited by local news outlets when a particular story impacted a specific community. Other times we've seen our work cited by the likes of the New York Post, Washington Post and The Wall Street Journal. Indeed, here's a fun fact — two of our alumni today work at The Wall Street Journal. 
In 2018, we supported nine undergrad internships throughout the year at publications such as the Washington Examiner, The Hill, USA Today and RealClearPolitics. Here's a success anecdote: the young man we supported with a Fall 2018 fellowship at the Daily Caller landed a permanent job there as an associate editor. Another young woman we supported with a 2018 spring internship is now a fulltime reporter for the Washington Times. Just two examples of many.
Each year we also find a new way to grow and reach a larger audience. This year, we launched a video program called "Campus Roundup," which we post on both YouTube and Facebook. Not only does it provide our stories a wider berth, it gives young people a chance to hone their skills with the video medium as well as talk about their articles. We've produced 38 episodes over the last 12 months and look forward to another strong year of episodes in 2019.
Honestly, I could go on and on and on about what an incredible blessing The College Fix is, not only to work at but also the impact it makes in news circles and the lives it invests in.
It is incredibly rewarding to pour into and support these bright, driven, talented young people who seek to advance the principles of a free society through the Fourth Estate. I get a lot of notes from students who thank me for mentoring them, as do my fellow editors Greg and Daniel, but truthfully as the old saying goes, 'tis better to give than to receive. We thank them for their courage and willingness to go the extra mile as higher education continues to be one of the most important battlegrounds regarding the direction this nation is headed in.
In 2019, we pledge to continue to work hard to repeat and improve on our successes over the years, and we humbly ask that you join that effort with tax-deductible gift of any amount. Thank you so much.
Sincerely,
Jennifer Kabbany
Editor in Chief
Like The College Fix on Facebook / Follow us on Twitter