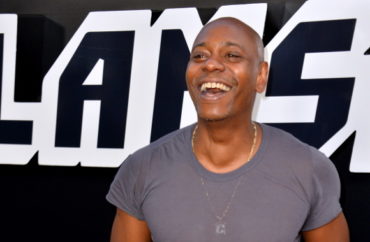 Ironically it will instead be called the 'Theater for Artistic Freedom and Expression'
A Washington D.C. high school has declined to rename a theater after its most famous alumnus, comedian Dave Chappelle, who has donated millions of dollars to the predominantly-Black public arts school.
Chappelle's moniker was to have adorned the Duke Ellington School of the Arts theater back in November; however, the comedian's Netflix special "The Closer" debuted and included "transphobic" jokes, according to the Los Angeles Blade.
After initially standing firm in Chappelle's favor, the school delayed the renaming and ultimately Chappelle himself got involved in choosing a name other than his own for the school, which has a large LGBTQ student population.
"[T]he idea that my name will be turned into an instrument of someone else's perceived oppression is untenable to me," Chappelle said.
Although he added he didn't want "any students to see his name on the theater and feel bad," Chappelle defended "The Closer" from critics, saying they "didn't understand that they were instruments of oppression" (emphasis added).
"You cannot report on an artist's work and remove artistic nuance," Chappelle said, noting that one cannot report on a "large rabbit [shooting] a man in the face without telling people it was a Bugs Bunny cartoon."
"When you say I can't say something, the more urgent is it for me to say it. It has nothing to do with what you are saying I can't say. It has everything to do with my freedom of artistic expression."
Chappelle said that he chose to highlight artistic freedom because "that's what I would want for myself, and that's what I want for every student that goes to this school."

"And I do feel like if that's threatened, then the society at large is threatened," Chappelle said. "If artists feel stifled, then everyone's stifled. And I feel like artists have a responsibility to really be true to their art right now." …

While Chappelle has at times defended the LGBTQ community and has denied being transphobic, trans activists and students at the Ellington School alike have expressed discomfort with his apparent lack of understanding and empathy about the ways his jokes harm trans people.

"I appreciate a good joke as much as anyone. But when jokes lead to dehumanization, violence and death aimed at trans people, that's when a line has been crossed and it has to be called out," the late-Monica Roberts, a trans activist of color from Houston, said in response to Chappelle's comments to the Blade.
Chappelle had said the potential rededication of the theater in his name was "the most significant honor of [his] life," according to the DCist.
MORE: Student op-ed: Comedians, don't be mean — use your comedy for social good!
MORE: Why comedian Chris Rock stopped doing standup on college campuses
IMAGE: Featureflash Photo Agency / Shutterstock.com
Like The College Fix on Facebook / Follow us on Twitter