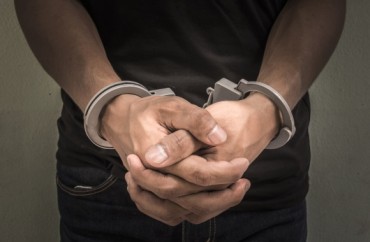 A Connecticut high school student was arrested early Thursday for saying he "could buy an AR-15," the same weapon used in Wednesday's Parkland, Florida school massacre.
The unidentified 17-year-old was charged with threatening and breach of peace.
FOX-61 reports that even though Ledyard High School Principal Amanda Fagan admitted the student "wasn't threatening to do harm" — he was just "talking about buying guns" — and had no access to guns at home, administrators decided to contact law enforcement "in an abundance of caution."
In a statement released to parents, Fagan wrote
In the wake of any school violence, nerves are often frayed. Today is no exception. Many of us–parents, students, educators–faced today with feelings of sadness, anger, even fear as we began to process the news of the eighth fatal school shooting in America in seven weeks. This time, it was 17 high school students and staff members who lost their lives yesterday at a high school in Parkland, Florida.

Like every school staff in America today, the staff of Ledyard High School had heightened senses all day, working to be sure our smiles were particularly welcoming, our ears were particularly open, our interactions particularly genuine. I addressed the student body at the start of second block today, and I attach those words to this email if you'd like to read them. …

While protecting student confidentiality, I'd like to tell you what did happen today. At the beginning of our first period class, a student stated, roughly, "I could buy an AR-15." In an abundance of caution, despite the fact that this student is a minor who cannot, in fact, legally purchase such a weapon, we made the decision to consult with the Ledyard Police, who made the decision to take the student into custody. The offense is akin to joking about a bomb in the airport. One simply doesn't do it.
Local police and the FBI had received multiple warnings about Parkland, Florida shooter Nikolas Cruz's comments and behavior with little-to-no follow up. However, police arrest and charge a kid for making, as Reason's Robby Soave points out, a rather ambiguous and innocuous comment: "It's not clear what the tone of the remark was—perhaps the young man was complaining that it's too easy to buy a gun."
Which is precisely how I took it upon first reading the story. Considering that Principal Fagan admits there was no actual threat, it's likely that's just what the kid meant.
Soave also (rightly) questions the "bomb in airport" analogy:
[…] one shouldn't [make such a remark]. But the question is whether someone should face life-altering consequences for doing it. There was no harm committed. There was no real danger. The authorities involved understood that there was no real danger. The kid is being punished anyway.
School administrators can find themselves in tough spots in this age of social media; however, it seems to me a timely message sent home to parents clearly explaining the situation — without the police getting involved — would have been a sufficient response in the case.
Read the full FOX-61 story and Reason article.
MORE: HS student suspended for wearing 'Nobody Knows I'm a Lesbian' shirt
MORE: Study: Cop at school makes students feel 'significantly safer, less stressed'
IMAGE: Shutterstock.com
Like The College Fix on Facebook / Follow us on Twitter