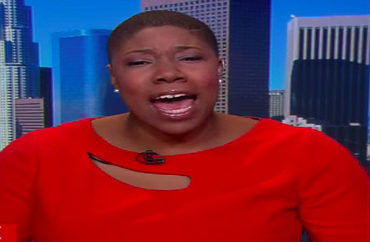 Symone Sanders, former press secretary for the Bernie Sanders 2016 presidential campaign, spoke at Drexel University on May 31 and called for more civil discourse "not just in our political conversation" but in our communities and on campus as well.
According to The Triangle, Sanders said our contemporary boorish back-and-forth comes from "partisan perspectives that are portrayed in the media because a lot of opinions are presented as if they are facts and not ideological beliefs."
Her solution to bring back this missing civility? "Effective social change, which can be manifested through movements."
[Sanders] emphasized the importance of intersectionality in an organization trying to start a movement, pressing that people cannot view others based on pieces of who they are; instead, they need to focus on the whole. However, she said that these individual components are still important and must also be acknowledged.

"When we talk about intersectionality, it means that, yes, we acknowledge that there are many parts to people and there are some things we should come together on and we should focus more on the things we can come together on," Sanders said.

She critiqued the Women's Rights Movement for its lack of intersectionality, then moved on to how the ways in which people approach conversations can also alter civil discourse.

Sanders explained how important it is to converse with individuals who have opposing views, explaining how one should always approach a political conversation in a manner that is not trying to dominate the other and to always strive for complete understanding in every situation, rather than simply trying to prove the other person wrong.

"We should strive to get to a place of understanding," she said, noting that it is flawed thinking to do otherwise.
Sanders went on to explain that discourteousness comes in part from "assigning labels and separating characteristics of individuals from the individuals themselves."
Interestingly, this is the same Symone Sanders who exclaimed "Oh my goodness, poor white people! PLEASE! Oh my — stop" when a fellow pundit asked her about a (white) Trump supporter being dragged from his vehicle and beaten.
Sanders also alleged that white supremacists have "have slipped through the fingers of the FBI […] repeatedly," and said it was "a 'pattern' that cannot be ignored." In the same segment, she said if the Parkland, Florida school shooter had been "black or brown," President Trump and others "would have swooped in and did whatever they felt needed."
As for that "assigning labels" etc., there is the time Sanders and CNN host Don Lemon belittled fellow a African-American, short-lived Trump aide Omarosa Manigault-Newman: After Omarosa had noted she was "haunted" by the president's tweets and would never again vote for him, Sanders rolled her eyes and said (to Lemon's laughter) "Don…It's Black History Month. We have to talk about Omarosa? Alright!" She continued:
I'm just saying […] it is Black History Month, ok? Carter G. Woodson did not go to the mat to get Negro History Week that eventually turned into Black History Month for us to talk about Omarosa and her apology tour and her attempt to salvage her reputation on a reality television show. Not during Black History Month, Don.
Lastly, in reference to Sanders' "not dominating others" commentary, two months ago the former press secretary went on an expletive-filled tirade after officials at LaGuardia Airport asked her to step aside for a "more thorough" security check. She ended up being charged with disorderly conduct.
Read the full Triangle article.
MORE: U. Michigan intimidated students into signing 'civility pledge'
MORE: Academia's newest target: 'White-informed civility'
IMAGE: YouTube
Like The College Fix on Facebook / Follow us on Twitter