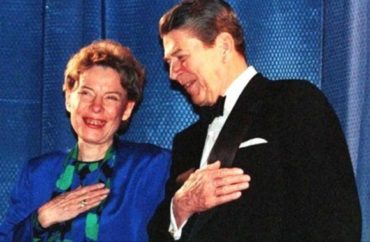 Iranian hostage crisis 'quickened my sense of an American identity'
WASHINGTON – Peter Wood was a graduate student when the mullahs took over the Iranian government in 1979. He wasn't paying attention to President Carter's foreign policy.
Until seven months later, that is, when "the hostage crisis unblocked something in me" that he would feel again after the Sept. 11 attacks, Wood told a Wednesday gala sponsored by Encounter Books.
The seizure of the American embassy by Iranian student radicals "quickened my sense of an American identity" and helped Wood recognize that freedom was "not something that could be taken for granted," said the president of the National Association of Scholars as he accepted the conservative publisher's Jeane Kirkpatrick Prize for Academic Freedom.
The award is named for President Reagan's ambassador to the United Nations and ardent anticommunist. As recounted by Alan Charles Kors, the University of Pennsylvania professor emeritus of history who introduced Wood, Kirkpatrick declined an honorary degree from Brandeis University when its faculty demanded the award's rescission.
It was just five years after the fall of the Berlin Wall, noted Kors, also the co-founder of the Foundation for Individual Rights in Education.
Kirkpatrick remarked at the time that "I do not desire a relationship with a university whose faculty is dominated by ideological zealots." Her remark was fitting, Kors said, given that Brandeis was earlier the home of the influential leftist academic Herbert Marcuse, whose justice-based arguments against free speech presaged later campus trends.
Kors extolled the anthropologist Wood for his pioneering so-called biography of the concept of diversity 16 years ago, which sought to reverse the tide of "coercion and intolerance" with reason.
The audience for the gala included many of Washington's elite conservative journalists, including Mollie and Mark Hemingway and Tablet columnist Lee Smith. Encounter also distributed its new book "Ball of Collusion" by former federal prosecutor and National Review contributing editor Andrew McCarthy.
Scholars voice dissent 'as if cradling cups of nitroglycerin'
Wood said he was inspired by Kirkpatrick's 1979 essay "Dictatorships and Double Standards," published in Commentary.
An attack on Carter's foreign policy written after the mullah's takeover but before the hostage crisis, she argued that the administration was "sacrificing America's national interests to the opportunity to side with leftist insurgents wherever they might be found," he said.
Wood shared his evolution from a "young and naive" academic at the University of Rochester, where he was "utterly shocked" by a shoutdown of conservative activist Phyllis Schlafly, to a mature skeptic of "anti-freedom ideologies" at Boston University. He also credited "The Closing of the American Mind" by Allan Bloom.
An example of the threat of anti-freedom ideologies, Wood said, could be found last week in the Yale Daily News, where a "contributing reporter" wrote a double-minded op-ed about the invitation of Harvard Prof. Harvey Mansfield to address the elite Directed Studies program.
First-year student Madison Hahamy objected to having to attend Mansfield's lecture because of his dismissal of rape culture, criticism of homosexuality and other politically incorrect views, yet claimed that she believes in "reasoned discourse" and "open-mindedness," Wood said, reading from the op-ed.
"However," he continued, drawing audience laughs, Hahamy differentiated her support for those concepts from Mansfield's "views that dehumanize others" and the "emotionally draining" practice of challenging him. Since Mansfield credits his his philosophy to the Great Books tradition, Hahamy argued, the Great Books themselves are problematic.
"Does Directed Studies care about me?" the first-year student wrote. "By hosting Harvey Mansfield at a mandatory colloquium, Directed Studies has proven that they do not."
MORE: NAS report finds nearly 200 colleges encourage, facilitate segregation
Kirkpatrick would have been familiar with a viewpoint like Hahamy's, said Wood. The former ambassador told the Republican National Convention in 1984 (below) that opponents of the president's Grenada invasion want to "blame America first," a view that has been adopted and promoted within higher education.
Faculty and administrators are dominated by the view that "America is just a terrible place" full of oppression, Wood said.
He called political correctness an "intellectual pathology" as evidenced by the shutdowns of libertarian sociologist Charles Murry at Middlebury College and "War on Cops" author Heather Mac Donald at Claremont McKenna College.
Ideas are being suppressed by the "dismantling of core requirements," addition of mandatory diversity and social justice courses, student speech codes and bias reporting, he said. Wood also dubbed unpaid labor for progressive causes "voluntyranny."
He referenced the so-called Overton window, a concept formulated by the late Mackinac Center scholar Joseph Overton on the range of ideas considered appropriate for public discourse.
"We need a safe space for controversial ideas" and "rational inquiry," Wood said, citing skepticism toward diversity dogma, global warming alarmism and The New York Times' revisionist 1619 Project, as well as reconsideration of "possibly the benefits of European colonialism."
Yet a university is the last place an outsider would look for debate on these controversial subjects, Wood continued: Scholars with dissenting views hold them "very quietly, as if cradling cups of nitroglycerin."
The political left has overhauled liberal education to the point of eliminating "curiosity" about ideas, while converting national citizenship into "citizens of the world" and reducing students to their ethnic groups.
Proponents of widening the Overton window must dare to "say what others deem unsayable" while showing respect for good argument and the people on the other side of the argument, Wood argued. They must defend those "who speak out with untimely truths or provocative opinions," and criticize "unexamined premises of groupthink."
MORE: NAS pushes federal funding cut for colleges that don't require Western civ
MORE: Levan Ramishvili/YouTube
Like The College Fix on Facebook / Follow us on Twitter