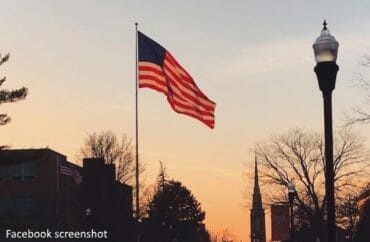 A "huge" American flag put up by a local business near Anderson University has apparently caused a stir at the Indiana campus, prompting concerns from some faculty members and students worried about the flag potentially blocking the view of a "campus landmark."
The controversy stems from an American flag (pictured) put across the street from the Anderson University campus by a Midwest self-storage company know as Storage of America.
While it is customary for the company to hang up a sizable American flag at its storage facilities, the Andersonian reports the patriotic display at the new location has triggered complaints at Anderson University.
The student newspaper reported in a recent article that some individuals at the Christian college have lodged concerns about the flag's "obstruction of Park Place Church of God, which serves as a scenic campus landmark." Additionally, others have complained about the flag being noisy when it whips around because of the wind.
Amanda Huber, an employee at Anderson University, told the Andersonian that she's heard complaints about the flag blocking the church as well as others stating "maybe it's a little large." Meanwhile, Anderson University College Democrats president Michael Weigel said his group is "curious as to what might happen if this specific large flag is flown at half-mast."
The concern around the American flag apparently caused such a stir that university administration took a vote on whether it should continue flying. A majority of the administration OK'd the flag's presence, according the Andersonian.
"I do have to represent the views of campus," the university's president John Pistole told the newspaper. "However, in the end, it is their property and their call. They checked with the city to ensure they were meeting regulations. As long as the flag is not a nuisance, it can stay."
Anderson University declined to answer a series of questions from The College Fix regarding the flag and the controversy it's caused on campus.
While the new American flag has drawn critique from some on campus, others are praising the new addition.
"We absolutely LOVE the HUGE new American flag that billows across campus and would like to thank Storage of America for installing it on their new property," the Anderson University College Republicans said in a Facebook post that is accompanied by a photo of the flag.
The College Republicans are urging those who agree with them to reach out to Storage of America to say thanks for flying the flag.
MORE: UC-Davis student leaders pass measure allowing them to remove U.S. flag
Like The College Fix on Facebook / Follow us on Twitter