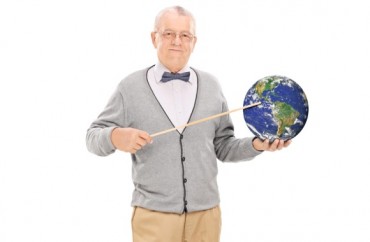 The campus sexual-assault documentary The Hunting Ground has been under sustained attack by left-of-center law professors and journalists going back at least 11 months, when The Harvard Crimson fact-checked its claims about Harvard.
The criticism has flummoxed the makers of the film, who recently tried to convince Harvard Law students to file Title IX complaints against their own professors because they called the film a hit job on one of their accused students (Brandon Winston beat the allegations against him).
Now the film's director is pulling out the big guns, ThinkProgress reports:
"This falsely accused thing drives me nuts," Kirby Dick, who wrote and directed The Hunting Ground, told ThinkProgress. "The criminal justice system resoundingly resides in favor of the perpetrator." [Tell that to Steven Avery.]
RELATED: 'The Hunting Ground' botches some rape stats, portrays 'prank video' as real
"There's a real parallel between climate change deniers and rape deniers in terms of how they operate," Dick added. "And there is going to be a similar parallel in terms of the impact on this culture… It's taken 20 years for us to crawl out of that hole. We can't just assume there are two sides and those two sides are equally weighted."
"Climate change deniers"!
Having failed to shame progressive advocates – led by nonwhite and feminist legal scholars like Jeannie Suk and Nancy Gertner – into renouncing their fealty to due process, rape hustlers like Kirby Dick resort to calling them the worst names they can think of ("creationist" can't be far behind).
Sign in college dorm: "If you have to convince them, it's not consent." Agree or disagree?

— Jeannie Suk (@JeannieSuk) February 6, 2016
RELATED: 28 Harvard law profs tell school to rethink sexual harassment policy
The rest of the ThinkProgress article is just as curious as Dick's complaints that his powers of witch-hunt persuasion are failing against his own ideological peers. For example, writer Casey Quinlan uncritically cites a widely misunderstood statistic on verifying rape accusations:
Although the research varies, the evidence suggests that false rape reports do not happen very often. It has been widely reported that between 2 to 8 percent of rape reports are false, and the majority of those accused of sexual assault don't spend any time in prison.
As we've noted before, last spring Jason Richwine at National Review unpacked what this stat really means, yet it refuses to die:
A "false" rape allegation is provably false – meaning, for example, that the accused has a bulletproof alibi or the accuser eventually recants. In many of the cases examined by the authors of the study [on false rape allegations, including the discredited researcher David Lisak], there was simply not enough evidence to bring charges. A rape might have occurred, but it might not have. Such cases are not classified as false.
RELATED: Black parents can teach college women how to avoid rape, feminist judge says
Specifically, in their analysis of sexual-assault cases at a large university, the authors found that 5.9 percent of cases were provably false. However, 44.9 percent cases "did not proceed" – meaning there was insufficient evidence, the accuser was uncooperative, or the incident did not meet the legal standard of assault. An additional 13.9 percent of cases could not be categorized due to lack of information. That leaves 35.3 percent of cases that led to formal charges or discipline against the accused. So there is obviously a lot of uncertainty here, a lot of he-said/she-said when allegations are filed. It would be a mistake to conclude, on the basis of the existing evidence, that nine out of ten assault claims are genuine.
Dick may find himself arguing next with the editorial board of The Crimson.
Responding to a new Title IX policy review committee at Harvard, the editorial approves of the reformed sexual-assault investigative procedures in the Law School (themselves a response to egregiously tilted university-wide reforms):
We are encouraged by the sense that Harvard could be moving in the right direction on sexual assault by tailoring the University-wide policies to more closely resemble the Law School's. The fact that this review committee is made up of people from across the University's schools and even includes a Law School professor who signed the [Boston] Globe op-ed is a promising sign.
RELATED: Harvard Law breaks with university on sexual assault investigation policies
RELATED: Black and feminist Harvard law professors call 'The Hunting Ground' a piece of 'propaganda'
RELATED: Harvard law professors' criticism of 'The Hunting Ground' violates Title IX, filmmakers suggest
Like The College Fix on Facebook / Follow us on Twitter
IMAGE: Shutterstock