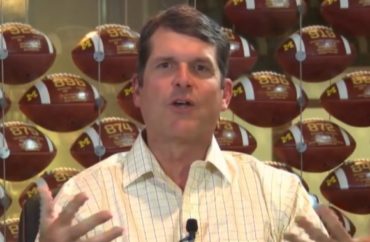 Jim Harbaugh reaffirms opposition to abortion
University of Michigan head football coach Jim Harbaugh reiterated his pro-life views during a recent fundraiser for a group in the state.
"I believe in having the courage to let the unborn be born," Harbaugh said at the Plymouth County Right to Life event on July 17.
"I love life. I believe in having a loving care and respect for life and death," he said at the event, according to the Detroit Catholic, the Archdiocese of Detroit newspaper.
He made his comments in the context of a debate in the state over whether abortion should become part of the Michigan Constitution. The state currently has a ban on abortions on the books, but the law is being challenged by the state's governor, Gretchen Whitmer. A judge, who is also a regular donor to Planned Parenthood, has blocked the 1931 law from being enforced.
Harbaugh said further:
Passions can make the process messy, but when combined with respect, it ultimately produces the best outcomes.

This process has been passionate and messy, but I have faith in the American people to ultimately develop the right policies and laws for all lives involved. I recognize one's personal thinking regarding morality of a particular action may differ from their thinking on whether government should make that action illegal. There are many things one may hold to be immoral, but the government appropriately allows because of some greater good or personal or constitutional right.
"Ultimately, I don't believe that is the case with abortion," Harbaugh said further at the pro-life event.
MORE: Creighton coach will undergo racism training after clumsy analogy
"Yes, there are conflicts between the legitimate rights of the mother and the rights of the unborn child.:
One resolution might involve incredible hardship for the mother, family and society," he said. "Another results in the death of an unborn person."
Harbaugh's opposition to abortion is at odds with some at his employer.
Former interim President Mary Sue Coleman declared that the university would support abortion, in anticipation of the eventual reversal of Roe v. Wade. She created a task force to ensure the university would facilitate abortions and appointed professor and Planned Parenthood abortionist Dr. Lisa Harris to lead the team.
Medical students also have petitioned to cancel a white coat ceremony speech by Dr. Kristin Collier.
The pro-life professor has no plans to speak about abortion, but her mere invitation to share a few words of encouragement has caused an uproar among leftist, pro-abortion students.
MORE: Harbaugh to meet with Muslim students upset he defended 'American Sniper'
IMAGE: Mitch Albom/YouTube
Like The College Fix on Facebook / Follow us on Twitter