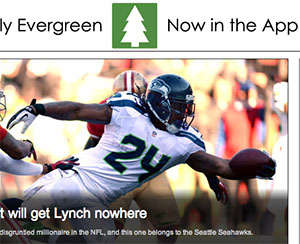 Washington State University's Daily Evergreen was on the verge of dying two years ago. It had been bleeding money for a decade when Candace Baltz joined as student media director in August 2012.
Now the paper is "turning a profit, swimming in awards and laying the groundwork for some bold expansion and innovation efforts," College Media Matters says, interviewing Baltz for its "College Media Geeks" series.
"There was less than a month's operating budget in reserve" at that time, Baltz told the college media blog.
So how did it turn around?
Baltz, a former TV reporter, shares some insights, and not just boring business stuff like overhauled rate cards:
We didn't have the funds to send students to conferences for training, so we invited our alumni to help with weekend workshops. The Evergreen alumni volunteered their time, paid their own travel expenses and spent days getting to know the students, encouraging them and brainstorming with them. Those alumni workshops were extremely popular — standing room only. They motivated the staff, and gave students the tools they needed to roll up their sleeves and recommit to serving the campus community through better and more inclusive coverage, as well as taking on an in-depth series on social issues each semester. [emphasis added]
Her advice for the grown-ups managing these student newsrooms includes:
Keep a drawer filled with emergency, non-perishable food.
Any time students ask for your attention, make sure it's undivided.
Be their toughest critic and their biggest advocate.
Hold them to professional standards. They're not there to learn how to be great student journalists. They're there to learn to be great journalists.
Bring donuts on Fridays. Mostly maple bars. It brings the students into the office on a non-production day, gets them in early for best donut selection and allows them to bond, plan and evaluate without the usual deadline pressure.
And a lesson I'm learning right at this very minute in the wee hours of the morning:
Whether the compensation is a three-hour release or a 40-hour salary, it's never as much as you actually work. The world doesn't want journalists who only work 9-5. Student journalists deserve a coach who is available to them no matter the day or hour.
Baltz talks about walking her students – often at midnight – through covering death for the first time, giving arrested student leaders advance notice before their family reads it in the paper, and "pregnancy tests and drug tests and background checks."
And – gasp – mixing business and editorial, a deeply uncomfortable subject for old-school journos:
At the Evergreen, we introduced a form of underwriting to fund our special projects and long-form series. Like some of the other universities, we're adding a marketing department so we can also function as a full-service advertising agency. Part of the marketing department includes a photo booth that is available to Evergreen clients to rent to promote their events in real time on social media. These sorts of marketing add-ons make a lot of sense. [emphasis added]
Of course, I can't ignore the column that got the paper featured on The Colbert Report. If you want to have this kind of viral sensation, aspiring journos, please just remember to follow columnist Abby Student's process, as Baltz described it:
She interviews experts, cites research and writes clearly to inform her readers of important information that could improve and protect their personal health and safety.
As for The College Fix – you're more likely to hear from us how to avoid buggering on campus.
Greg Piper is an assistant editor of The College Fix. (@GregPiper)
Like The College Fix on Facebook / Follow us on Twitter
IMAGE: Daily Evergreen screenshot