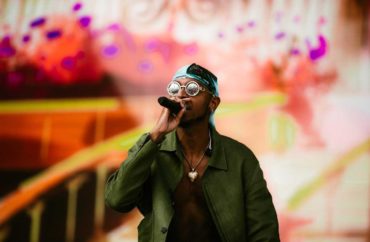 Authors said they can't ban the artist, but they want Yale to 'do better.' They also want a Native Studies Program.
Masego, a Jamaican American musician scheduled to headline the Yale Spring Fling, damagingly portrays Indigenous and Native American women with racist lyrics, argued the chairs of the Native and Indigenous Student Association on April 27 in the Yale Daily News.
Lyrics from a popular 2017 song by Masego (pictured) about his romantic affair with a Diné (Navajo) woman are a "tired perpetuation of the fetishization of Native women," write Joaquín M. Lara Midkiff and Lex Schultz.
"Lines such as 'She was my heart / I don't know the tribe or the fall / But by default she don't think of me' and 'I thought she was an Indian (Navajo) / She be slangin' thangs like a simian (now I know) / All my life I wanted me an Indian (there she goes)' are not celebrations of the richness of Indigenous Southwestern patrimony," the authors write.
"They are lazy allusions and invocations of Indigeneity that ascribe importance to a Native woman only when she pays attention to the speaker or otherwise subjects herself to his fascination," they state.
Midkiff and Schultz argued the lyrics "participate in and contribute to damaging currents of culture that commodify Indigenous bodies," writing Masego's lyrics "carry the weight" of the troubled history of Native women, who have a disproportionately high death rate and experience of sexual violence. Masego is not contributing to the stance all must take against this "epidemic of violence," the authors state.
Yale's endorsement of Masego comes as no surprise to the authors, however, because the university has neglected the Indigenous community, they argue. Yale occupies "unceded land" and it "recently hired only its second Indigenous Studies professor," they write.
"As students, they wrote, "we cannot force him to not sing a song he shouldn't; although, it should be clear to all that he should not," write Lara Midkiff and Schultz.
Moreover, Lara Midkiff and Schultz went on to state that their organization has released a statement against Masego and "demanded" that the Spring Fling committee exercise more care in selecting future artists. They also called on the university to establish a Native Studies Program.
MORE: Cancel culture shuts down movies, theater and music on campus
IMAGE: Masego Music/Facebook
Like The College Fix on Facebook / Follow us on Twitter