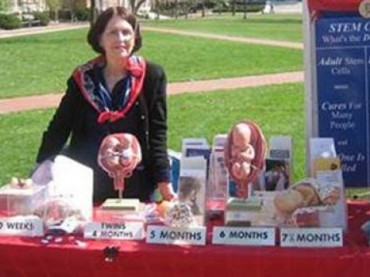 "We hope you understand that our intention is not to restrict your freedom of speech or expression, but rather to create an inclusive and respectful environment for all."
That was the stated justification the organizers of the Johns Hopkins University Spring Fair gave to a pro-life group, explaining why it could no longer display fetal models at its booth, as it's done for 30 years, according to LifeSiteNews.
This is what the models look like. Johns Hopkins runs a world-renowned medical school.
A student committee with faculty advisers said those images were "triggering and disturbing" for some people on campus, but after an inquiry from FoxNews.com, the organizers backed down:
On Tuesday, FoxNews.com emailed questions to the students involved in the decision. Forty minutes later, the student committee informed Guernsey by email that the display would be allowed.

In a statement to FoxNews.com, the student committee explained:

"We… were wrong in our initial decision and, upon further reflection, have decided we will not impose restrictions on the displays presented by any community groups at Spring Fair… The committee values free speech."
Susan Kruth at the Foundation for Individual Rights in Education notes that despite the private school's broad promises to promote "the free exchange of ideas," the committee's criteria for rejecting images are practically unhinged:
In addition, the Committee claims "the right to reject illegal, vulgar, triggering, or otherwise disturbing images."

It is not at all clear from the Committee's policy what constitutes "disturbing" images. Indeed, it is even more unclear considering that non-graphic anatomical models of fetuses (i.e., one can easily tell what it being shown, but there is no blood or realistic viscera depicted) apparently fit the bill.
Kruth warns that the committee hasn't rescinded its unhinged right to ban speech:
It is absurd that members of the JHU community—overwhelmingly adults, who ostensibly are there to learn—are treated as though they are unable to confront depictions of the human body. [The dispute] was over whether models crafted to show the size and developmental stages of fetuses were so potentially harmful to students that they should be subject to censorship. …

In addition, the Committee has not explicitly rescinded its right to censor other "disturbing" displays at its whim.
It's not FIRE's first dance with John Hopkins student leaders, even on the abortion issue:
Last August, for example, [pro-life group President Andrew] Guernsey spoke out in response to the [student government's] viewpoint-based reclassification of student advocacy groups in order to render them eligible for a much smaller amount of funding than they were before. And before that, Guernsey encountered significant opposition from the SGA when trying to gain recognition for Voice for Life. The group was initially rejected for blatantly viewpoint-based reasons, but [the government's] rejection was overturned after FIRE intervened.
Read LifeSiteNews, FoxNews.com and FIRE's post.
Like The College Fix on Facebook / Follow us on Twitter
IMAGE: North Baltimore Pro-Life Study Group
Like The College Fix on Facebook / Follow us on Twitter