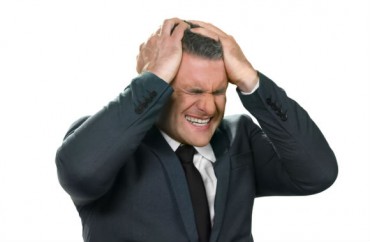 "I can't deal with it."
That's why a medical staffer at Oregon Health and Science University is refusing to come back to work, more than a month after she freaked out upon seeing a joke poster on an OHSU door.
The Portland Tribune reports that Maria Frazier, who is black, saw the "Stress Reduction Kit" posted on a door – not her own office door – inviting passers-by to "bang head here." Taped above the poster was a tiny noose:
The fact that the noose materialized on Nov. 10, just two days after the election of Donald Trump, made it more disturbing for her given the dramatic surge in reports of hate speech following his victory.
There's no indication from the Tribune when the poster itself was put up, as opposed to the noose. Either way, Frazier took the joke combination as a potential threat and "went out on short-term disability leave."
MORE: Pro-LGBT art project with colored nooses sparks outrage
Her union is scolding the school for not crucifying the co-worker who posted the noose, who told the Tribune there was nothing racial about his joke. He said he had expressed concern to Frazier, a medical assistant, after her relatives were pepper sprayed in an alleged racial incident.
Though the school paid for her disability for the two weeks OHSU was investigating, it concluded that the joke noose didn't violate any policy, was not racial and did not target her. Frazier claims her doctor won't let her come back to work because OHSU is "minimizing" the noose.
The union, Local 328 of the American Federation of County, State and Municipal Employees, claims OHSU is a hotbed of racism, ableism, sexism, classism, homophobia and religious bigotry against certain employees.
The university's new vice president for diversity and inclusion is scheduled to meet with Frazier tomorrow, according to the Tribune.
h/t Campus Reform
MORE: 'Noose' delusion rocks on at University of Delaware
Like The College Fix on Facebook / Follow us on Twitter
IMAGE: DenisFilm/Shutterstock