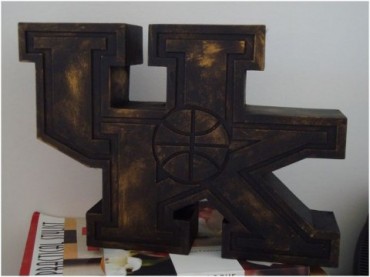 (See UPDATE below)
At the press conference following the University of Kentucky's perfect season-ruining loss to Wisconsin last night, UK point guard Andrew Harrison was heard referring to UW player Frank Kaminsky with a racial slur.
The question remains whether Harrison will face any official repercussions for the racist comment (UW's Kaminsky is white.)
Language warning:
This past week we've seen Duke University and the University of South Carolina waste no haste in dealing with their own racially intolerant acts.
At the former, the student who admitted to hanging a noose on a tree is no longer on campus and awaits not only punishment from the school, but possibly from the state and federal government.
At the latter, a female student was suspended for scribbling a racist term on a study room whiteboard.
At both colleges, the administration reaction was emphatic: zero tolerance for racism.

Respect for all and the @UofSCCreed are our #UofSC values. Racism and incivility are not tolerated. Situation being investigated. — U of South Carolina (@UofSC) April 3, 2015

Not to mention, hundreds of students showed up for an anti-racism demonstration following the Duke incident.

Thus far, there has been no official response from the University of Kentucky.

UPDATE: Harrison has since apologized and the university will take no disciplinary action until it "has had a chance to evaluate" the situation.

Like The College Fix on Facebook / Follow us on Twitter

IMAGE: Katie/Flickr