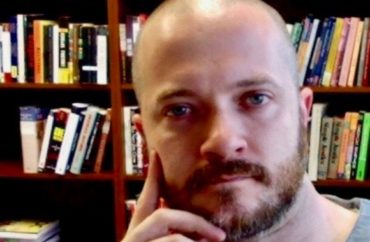 His supporters don't dispute he broke the law
Comparing his students who support Donald Trump to Hitler youth – and advocating for the contamination of Republican senators' meals – didn't stop James Thomas from getting tenure at the University of Mississippi last year.
The sociologist's most recent streak of activism, however, should get him fired for violating state law, according to the official in charge of tracking Mississippi public money.
Mississippi political news website Y'all Politics reports that State Auditor Shad White told Chancellor Glenn Boyce that the taxpayer-funded institution must fire Thomas (above) for going on a two-day strike in the name of racial justice.
Participants in last week's so-called #ScholarStrike pledged to "refrain from teaching and all administrative duties" and instead lead public teach-ins on police brutality and racial injustice.
Thomas did not hide his participation, tweeting that he had told his classes that he wouldn't be teaching and pointing them to strike resources. (Y'all Politics posted a screenshot of his email to one class, which specifies he wouldn't even respond to student emails.)
He also encouraged other tenured professors to violate state law.
MORE: Professors push critical race theory in two-day #ScholarStrike
I'm participating in #ScholarStrike. I've emailed my classes to let them know I won't be available the next two days. I've pointed them toward @ScholarStrike resources to understand why so many of us are joining in this national call to action. https://t.co/ginprwpY0U

— James M. Thomas (JT) 🌹 (@Insurgent_Prof) September 8, 2020
I have strong feelings about this – if you have tenure, your #ScholarStrike activity needs to be a work stoppage. Tell your students you're not working.

— James M. Thomas (JT) 🌹 (@Insurgent_Prof) September 6, 2020
White's Monday letter to Boyce (below) says there's no wiggle room for the university to continue employing Thomas. He violated Mississippi law in more than one way, by both participating in and promoting what he admitted was a "work stoppage" as a public employee.
State law declares strikes "illegal, unprotected and contrary" to policy, and it says courts "shall order" the termination of public employees who go on strike. Ole Miss must bring the matter to court to be in compliance with state law, White wrote.
The auditor is tasked by statute with recovering "illegally expended" public funds, White wrote, asking Ole Miss to withhold Thomas's salary for the two days he was on strike. He said his office had already gathered documents related to the professor's strike and interviewed him. The university has been "very cooperative" up to this point.
"Mr. Thomas cannot be paid for the days he did not work. Also, the penalty for striking is termination," White said in a statement given to Y'all Politics. "The law is the law. He cannot act as if he is above the law."
MORE: Thomas gets tenure after comparing students to Hitler youth
One of Thomas's colleagues, political scientist Conor Dowling, published an open letter to the community mocking the law the sociologist violated and apologizing for not himself violating the law last week.
"This is an attempt to score some cheap political points in the name of 'the law' (a law that inhibits the ability of workers to organize in this state and fight for better pay and working conditions) and to use intimidation tactics in an attempt to silence faculty," he wrote: "There are much better, and more substantial, uses of taxpayer money the State Auditor's office could be pursuing."
To atone for not striking, Dowling said he would donate two days of his salary to eight black student organizations at Ole Miss.
The professors separately claimed that the #ScholarStrike did not technically halt all work by faculty. Thomas tweeted Sunday that "100 percent of my job requires time spent thinking," which he was still doing while on strike. Dowling said if the auditor wanted to come for his salary "he would be in the wrong" because Dowling and his students "would still be learning," apparently referring to the teach-in.
MORE: Professor who called for public harassment of politicians granted tenure
100 percent of my job requires time spent thinking. Thinking before writing. Thinking while writing. Thinking before teaching. Thinking while teaching.

If I'm thinking I'm working.

— James M. Thomas (JT) 🌹 (@Insurgent_Prof) September 13, 2020
Auditor White told the Clarion-Ledger that Thomas "wasn't interested" in talking when agents showed up at his home. "I cannot think of an example in my two years in office where we've had an employee who strikes, and who spells out in detail exactly what they are not doing in the strike," he said.
Thomas has remained active on Twitter since White's letter came out, retweeting those who are critical of the auditor's effort. No one appears to have disputed that the professor broke the law. Instead, they call White's effort a waste of time and taxpayer resources.
Worth asking how much office time @shadwhite and his team spent proving a sociology prof protested racism, which is area he teaches, for like 16 hours.

Also worth asking how much time @Insurgent_Prof spends on extended office hours and research/semester. Prob more than 16 hours. https://t.co/qZlbyZX4Ga

— Larrison Campbell (@thisislarrison) September 16, 2020
Read the reports and Dowling's letter.
MORE: Syracuse defends prof who incites violence, punishes frat for satire
IMAGE: Ole Miss
Like The College Fix on Facebook / Follow us on Twitter