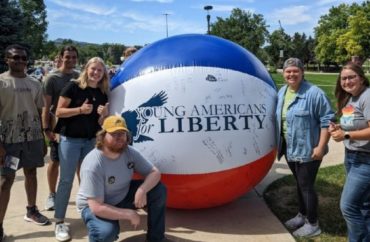 Students should not need to 'jump through burdensome and illegal hoops just to talk with their classmates outside,' attorney says
Students at the University of Alabama in Huntsville will no longer have to ask administrators for permission to talk to their peers about political topics outside after the school agreed to settle a lawsuit.
Alliance Defending Freedom represented the Young Americans for Liberty chapter at the public university. The group challenged the legality of UAH's free speech zones and permit requirements under the Alabama Campus Free Speech Act and the Alabama Constitution.
"College students have the freedom to share their beliefs anywhere on campus; they don't need permission from college officials to speak, nor should they have to jump through burdensome and illegal hoops just to talk with their classmates outside," Tyson Langhofer, the director of ADF's Center for Academic Freedom, stated in a news release.
"Alabama state law guarantees that all students at public universities can freely speak outdoors on campus grounds," Langhofer stated. "We commend the University of Alabama in Huntsville for doing the right thing by amending its policy to respect students' free speech rights."
The permit requirements gave university officials broad latitude to deny requests for viewpoints, according to ADF attorneys.
Young Americans for Liberty's national organization thanked student Joshua Greer and his club for pushing back against the speech restrictions.
"Often, universities deny that their illegal restrictions on speech prevent students from speaking and assembling freely," JP Kirby, director of student rights, stated in the ADF news release. "However, when we see cases such as this—where a university goes to great lengths to defend its restrictions—we understand that actions are louder than words and that students must be vigilant and stick to their principles against university bureaucrats."
This is the latest free speech victory for ADF, which won a $90,000 settlement at the end of 2022 on behalf of Christian students at the University of Idaho's law school.
The settlement ended a lawsuit brought by the legal group after university officials punished the students and their faculty advisor for making comments in support of Biblical marriage between a man and a woman, as previously reported by The College Fix.
MORE: UC Davis chancellor condemned Charlie Kirk event hours before ANTIFA attacked
IMAGE: Young Americans for Liberty/Instagram
Like The College Fix on Facebook / Follow us on Twitter