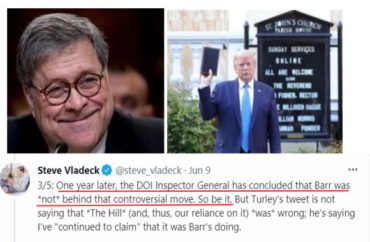 A nationally recognized law professor who frequently appears on left-leaning media news outlets has been forced to admit that former Attorney General Bill Barr did not order the clearing of Lafayette Park for President Donald Trump to achieve a photo op.
UT Austin law Professor Stephen Vladeck, who specializes in national security law and military justice, co-authored a column in Just Security in June 2020 headlined "The Untold Power of Bill Barr to Direct US Military Forces in Case of 'Civil Unrest.'"
"There is good reason to be concerned about how Barr would personally exercise the power that could be handed to him in the name of quelling domestic disturbances. The infamous operation to forcibly clear protestors in Lafayette Park to achieve a photo op for Trump was ordered by the Attorney General (who keeps changing his story about the details). That does not bode well for our future," the column stated.
Now, one year later, Vladeck has corrected his position on the photo op narrative.
Vladeck made his tweeted admission after one of his peers, George Washington University law Professor Jonathan Turley, called him out.
"One year later, the DOI Inspector General has concluded that Barr was *not* behind that controversial move. So be it," Vladeck tweeted earlier this month.
An Interior Department investigation concluded that "U.S. Park Police did not clear Lafayette Park and the nearby area of protesters on June 1, 2020, so President Donald Trump could walk from the White House over to St. John's Church, but learned of his interest in surveying the site hours after they already had begun planning to clear the area to put up new fencing," ABC news reported.
Turley wrote in another blog post published Thursday that Vladeck held to the false narrative longer than he should have, and that it is "illustrative how false narratives are promulgated in the media and then, when shown to be unsupported, are dismissed or barely acknowledged."
"… Vladeck's final defense is more of a shrug than a spin. He notes 'One year later, the DOI Inspector General has concluded that Barr was *not* behind that controversial move. So be it.' That is quite a concession from claiming as a fact that Barr cleared the area for the photo op to an 'oh well, maybe he didn't.' This theory was shredded within a week of the operation. There was no support for Vladeck's claim when he made it (and certainly not the article that he cites, which said the opposite of his claim). Yet, Vladeck never corrected his claims over the last year or even suggested that his analysis (while popular) was likely false," Turley wrote.
Vladeck's first line of defense is essentially "he said it first." The real culprit, he suggests, is Zack Budryk who writes for the Hill. The problem is that Budryk said the opposite of what Vladeck said and refuted the photo op conspiracy theory. https://t.co/p96Qm5crsm

— Jonathan Turley (@JonathanTurley) June 25, 2021
Turley, in his post, also spelled out why he is taking this topic on.
"In truth, I am surprised by Vladeck's denials because I still believe that, as academics, we have a duty of candor and honesty. Indeed, that is why I wanted to lay the facts bare," he wrote.
Click here to read Turley's post and here to read Vladeck's tweet thread on the situation.
MORE: Colleges investigate community members for attending pro-Trump protest
Like The College Fix on Facebook / Follow us on Twitter