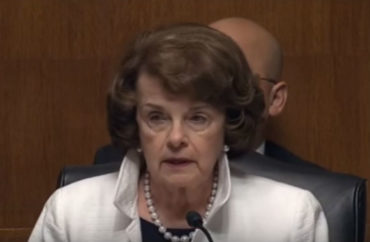 Sent chancellor a letter for applicant with '26% chance of admission'
The husband of a powerful Democratic senator "likely" was the cause of the University of California-Berkeley admitting a student who did not meet its academic standards, according to the state auditor's office.
The Wall Street Journal reports that the role played by UC Regent Richard Blum, married to Judiciary Committee ranking member Dianne Feinstein (above), was uncovered in a broader audit of unqualified admissions to UC schools seemingly based on donations or ties to decisionmakers.
Also an investment banker, Blum sent a letter on the applicant's behalf to the chancellor's office, who forwarded it to the development office, which then forwarded the letter to the admissions office. Letters of recommendations from even regents should go directly to admissions, according to school policy, the Journal reports.
Blum's intervention apparently got the student off a "wait list" and given an admissions offer despite only a "26% chance of admission based on ratings assigned to the application," the report says.
The audit found several dozen applicants with money or connections who admitted over more qualified competitors to the UC schools in Berkeley, Los Angeles, Santa Barbara and San Diego, the Journal reports.
MORE: Feinstein shocked by judicial nominee's ordinary conservative college essays
Most of the 64 were white "and at least half came from families with average annual incomes of $150,000 or more," while a third were falsely categorized as athletic recruits:
Among those who made the cut, the audit says, were an applicant who babysat for the colleague of the former admissions director, another whose family promised a large donation, and the child of a prominent alumnus, all of whom were considered less qualified than other prospects. …

In one instance, the report says, a donor relations administrator from Berkeley flagged an applicant with the lowest possible scores on his or her application—essentially, a "do not recommend" stamp—to a coach, noting the applicant's father had capacity for major gifts to the school.
Berkeley, the flagship and perhaps most selective UC school, was particularly plagued by faulty admissions, the audit found. It recommended UC President Michael Drake oversee Berkeley admissions for the next few years to protect "a merit‑based admissions process that is free of improper influence."
The review covered 2013 through 2018, and Drake said the university system already knew about many of the issues through its own audits. He said "individuals involved in improper activities will be disciplined appropriately."
MORE: UC's admissions for 'special talent' and 'exception' are magnets for fraud: audit
IMAGE: LIVE ON-AIR NEWS/YouTube
Like The College Fix on Facebook / Follow us on Twitter