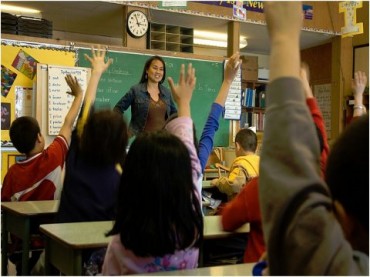 For the first time, the New York Board of Regents is requiring all prospective teachers to take the Academic Literacy Skills exam.
Unfortunately, most who took it in New York City did not pass.
The exam "measures whether a prospective teacher can understand and analyze reading material and also write competently."
At Boricua College in The Bronx, 13 students took the literacy test. Not a single one passed.

At a half-dozen City University campuses, about half or more failed to make the grade.

Only 29 percent passed at York College in Queens, where there were 68 test takers.

Just one-third of the 21 test takers at Brooklyn's Medgar Evers College passed.

The pass rate was only 41 percent at CUNY's College of Technology in Brooklyn; 47 percent at Lehman College in The Bronx; 51 percent at City College; 54 percent at Brooklyn College and 55 percent at the College of Staten Island. CUNY vowed better results going forward.

"We are not satisfied with these results, and we are working closely with our college presidents, education deans and others to ensure we do all we can to produce the quality teachers the city requires and deserves," said CUNY Chancellor James Milliken.
On the other side of the coin elsewhere in the state, Barnard College and the University of Rochester had one hundred percent pass rates, while SUNY Geneseo and Columbia's Teachers College each had over ninety percent.
The New York statewide average was sixty-eight percent.
Like The College Fix on Facebook / Follow us on Twitter
IMAGE: audio-luci-store-it/Flickr