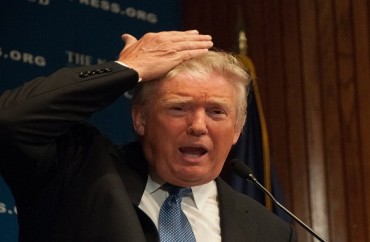 Several members of the Yale College Republicans executive council quit after the organization endorsed Donald Trump on Monday. They quickly established their own group: the Yale New Republicans.
"Many among the Yale College Republicans' ranks did not see this endorsement as the best decision," the YNR said in a statement released Thursday.
"These members have since regrouped and set out to form the Yale New Republicans, a more active Republican organization on campus that will always put national interests above partisan ones."
According to the statement, the Yale New Republicans aim to bring together similarly-minded, right-leaning individuals to promote conservative values as well as increase political participation and voter education.  While the organization will advocate for conservative and often Republican candidates, it is not affiliated with the National College Republican organization. This allows the group flexibility to support the most qualified candidates running, the statement says, rather than having to choose along partisan lines and potentially support nominees who largely deviate from the organization's values.

MORE: Trump chalking by CRs is a 'hate crime,' black students claim

The Yale New Republicans is not the only conservative student organization to have formed as a result of the Yale College Republicans divisive endorsement. A new group called Yale Undergraduate Conservatives Against Trump was also formed Wednesday. In an interview with the Yale Free Press, YUCAT founder and president Alexander Michaud '17 said the group plans to endorse a third-party candidate and campaign against Trump.
The Yale College Republicans differ from those of other Ivy League schools.
As Heat Street reports, the Harvard Republican Club has refused to back Trump — the first time it hasn't made an endorsement since its founding in 1888 — saying the candidate is "a threat to the survival of the Republic."
The Princeton affiliate has declined to take a "definitive position" on Trump. Columbia is still debating an endorsement. And at Penn, although the Republicans there haven't made an official endorsement, its executive director has said "everybody hates Trump."
Nevertheless, the Daily News says "dozens of conservative groups in college campuses across the country have voiced their support" for the GOP nominee:
"Students for Trump, a national student-led organization, has nearly 50 chapters listed on its website, including groups at Harvard University, the University of Washington and Pennsylvania State University. Similarly, the Texas Federation of College Republicans — which includes more than 30 chapters — released a statement in late July congratulating Trump on his nomination."
Read the full Daily News article.
MORE: UCI reinstates College Republicans, CRs demand apology
MORE: UCLA CRs promise legal fight if punished for 'only two genders' sign
Like The College Fix on Facebook / Follow us on Twitter
IMAGE: Shuttertsock