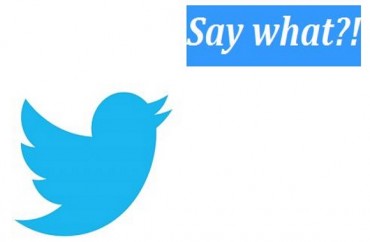 An Arizona teacher has started a Change.org petition calling for the ouster of his district school board president — because she insulted him on social media.
The Twitter exchange between Barry Goldwater High School teacher Aude Odeh, a Palestinian-American Muslim, and Deer Valley Unified School District board president Kim Fisher erupted soon after Odeh responded to Fisher's tweet about what she deemed a deceptive article about President Trump.
The discussion began politely enough — the entire back and forth was saved by Odeh — but degenerated arguably with the first snarky stone thrown by Odeh: "Yes, calling things liberal and capitalizing words is really gonna help champion your cause right now."
After someone else chimed in about Trump's proposed (majority Muslim country) travel ban (complete with hashtags "#Trumpsterfire" and "#DownWithTheCrazyShip) with Fisher responding (civilly) that it's the president's job to protect Americans, Odeh tweeted "There has [sic] always been tough screenings. Even now. All he is doing is banning Muslim majority countries. Period."
That's when Fisher's language took a turn to the inappropriate, with her referring to Odeh as "an anti-American Trump hating troll" and calling his comment "bullshit."
According to The Arizona Republic, Fisher contends she was just "defending herself from a 'cyber bully' and had a right to as a 'private citizen.'"
After the exchange, Odeh, a Palestinian-American Muslim, filed a petition on Change.org, saying that the school district should not have a board president who calls other people names. About 500 people had signed the petition as of Wednesday afternoon.

Reached by a reporter on Wednesday, Odeh declined to comment, stating he had been advised to not say much else. A Deer Valley district representative said the district would not be making a statement about the issue.

Fisher took a few moments Tuesday to address the controversy at the beginning of a regularly scheduled meeting of the governing board.

"The correspondence that occurred from an individual who had been trolling me on Twitter … at the time, though he's claiming differently now, was from an individual on his private page as a private citizen, and I respect his …. First Amendment right. And I also reserve mine," Fisher said.

Fisher said that, as soon as she walks through the doors of the District Office, she understands that she is an elected official. But she argued that, as soon as she left the building, she was once again a private citizen and had the right to defend herself.
Odeh and several supporters also addressed the board, criticizing Fisher's "lack of professionalism." One, Kathy Huntington, claimed Fisher was not acting in a "private" capacity.
"When you list yourself as a school board president, you are no longer speaking as a private citizen," she said. "You're representing your employers, you're representing the people who elected you to that spot."
Huntington added that Fisher's tweets showed "disregard for the standard of conduct to which students and staff are held," but said the "main issue" was Fisher's "almost knee-jerk reaction to call somebody Trump-hating and anti-American."
Is that so? It is highly unlikely that school districts routinely monitor students' social media comments, and it's also unlikely that if a student complained about being told by a peer on Twitter that one of their comments was "bullshit" that there would be any discipline meted out.
Not to mention, Ms. Huntington seems blissfully ignorant of the innumerable "almost knee-jerk reactions" on social media by those who dislike President Trump: derogatory language (like "#Trumpsterfire" and "#DownWithTheCrazyShip") and mischaracterizations of his policies.
Indeed, in the current political climate, Ms. Fisher's remarks could be considered incredibly subdued.
Read the full article and Odeh's Change.org petition.
h/t to EAGNews.org
MORE: School board member resigns after making Trump 'assassination' social media post
MORE: School board member's anti-Trump rant: Make America Great Again … 'with a clean head shot'
MORE: Virginia school board member resigns after profane anti-Trump social media rant
Like The College Fix on Facebook / Follow us on Twitter