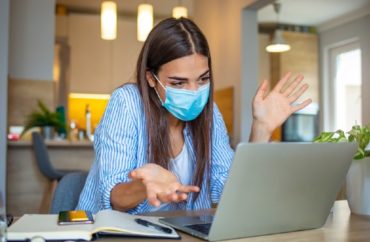 OPINION: DePaul University made us a promise — then went back on its word
After a year of online learning, I, like many other students, thought there would finally be a full return to in-person learning.
My university, DePaul, told students that everyone would have to be vaccinated to attend in-person classes. Though I chose to take the vaccine before the mandate, many of my peers followed what the university said, despite any misgivings they might have had about getting vaccinated.
People who have chosen not to get vaccinated were warned they could lose financial aid and would be dropped from classes.
But even people who did take the vaccine are finding their classes moved online — and the return to normal seems still so far away. This despite the low rate of COVID infections in the past month — the highest number of weekly infections of students is 18 cases.
These classes are primarily in the areas of Art and Science, but students across universities have reported similar experiences.
DePaul University students respond to the rug being pulled out from under them
Eric Koetting, a teammate of mine on the hockey team, said some of his in-person classes have been moved online.
"I received the vaccine earlier than I was comfortable with because DePaul put a boot on my throat by threatening not to process my financial aid unless I got the vaccine," Koetting told me. "Now to see my classes being pushed online yet another year while I continue to pay the same amount of tuition is beyond frustrating."
Olivia Poupard, a coworker of mine said a painting class of hers had been moved online, a disappointing but not surprising decision reversal. She found out about the switch via an email from one of her professors. I asked Olivia in a text conversation if she thought it was fair for the University to move some classes back online.
"I hate to say that I kind of knew in the back of my mind that the university won't be at full capacity for in person classes," Poupard told me via text message. "We are really living in a time of uncertainty, and with new variants of this pandemic being discovered, I doubt universities will be fully back in person for a long time."
"I am not sure whether it is fair or not for the school to be switching the in-person [classes] back to online, but there is a level of 'I knew it was bound to happen anyways,'" Poupard said.
My university will not explain the decisions made to move the classes online and if more courses will be moved to virtual. I contacted spokesperson Kristin Matthews multiple times in the past month over email but have not received a response.
DePaul thinks they know better than their students
The Fix did obtain an email, sent to an Animal Physiology class, notifying students of the move to online.
"This is a recent change due to the ongoing COVID situation. It is quite difficult to teach physiology safely in person as most of our in person lab exercises require close physical contact," the email explained.
"Safe" is quite the word to use when discussing students that were already forced to be vaccinated, and are almost exclusively in an age range where COVID-19 did not pose a significant risk in the first place. Further, online options were already provided, so students who did not wish to expose themselves to the virus already had the option to avoid contact.
DePaul maintained an extensive course catalog that was exclusively online even before campus closed in response to COVID-19. DePaul offered online options for this fall semester, and all students had the opportunity to enroll in online classes if they wanted to.
Students have already paid for housing or found their off-campus apartments for the fall semester with the plan of attending these classes in person.
The more classes the university moves online, the less moving to campus is worth it for these students. Students are bearing the consequences of decisions but have not been given a voice in the decisions.
At most schools this would not be a problem, as the university could allow students in this situation to move out of their dorm room if it was not financially beneficial.
However, DePaul is a city school, where less than 10 percent of students live in campus housing, which means students will be forced to negotiate with their landlords to get out of their lease if they are put into this predicament.
Over the course of the COVID pandemic, DePaul University has continued to make decisions on behalf of its students who are fully capable of making their own judgments. The only people who should choose what activities it is safe for students to engage in are themselves.
MORE: University officials misled students about COVID restrictions
IMAGE: Dragana Gordic/Shutterstock.com
Like The College Fix on Facebook / Follow us on Twitter