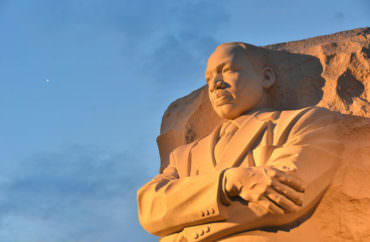 A Wisconsin technical college has rebuffed a local NAACP chapter's request to ban a Republican congressman from attending the school's Martin Luther King, Jr. Day festivities. even though the event was eventually canceled.
The Racine Branch NAACP argued the congressman representing the area, GOP Rep. Bryan Steil, should be barred from celebrating MLK's legacy because he voted against two Democratic bills that expanded the role of the federal government in managing local elections. Echoing recent statements by President Joe Biden, the group referred to the "widespread voter suppression" seen in America as "the new Jim Crow."
"When we think about Dr. King, we know that he believed the right to vote was essential to bringing about equality," said the Racine NAACP in a statement last week urging the school to disinvite Steil.
"Dr. King fought for landmark legislation, including the Voting Rights Act of 1965 and organized voter registration drives like the Freedom Summer to codify our right to have a say in the halls of power and laws that govern our lives. We see now that backlash from Republican controlled legislature and the right-wing packed Supreme Court are working to undo his legacy and our freedom to vote."
"Unfortunately, Gateway has invited Representative Bryan Steil to this year's MLK event. Looking at Rep. Steil's voting record on elections and civil rights, this is not the time or place for him to be, even virtually. We would ask that Gateway rescind the invitation to Rep. Steil based on his No votes of the George Floyd Policing Act, the John R. Lewis Voting Rights Advancement Act of 2021 and his recent No vote again on Thursday. The widespread voter suppression we are seeing today is the new Jim Crow, shutting out minorities and voters of color from participating in our democratic process. African Americans must have the right to vote in 2022 and moving forward."
But Gateway rejected the NAACP's appeal to have Steil banned.
"Gateway is committed to the vision established by Dr. King. Our celebration on Monday is intended to bring our community together to reflect on our individual responsibilities to respect the rights of all citizens," said school president and CEO Bryan Albrecht in a statement.
Steil objected to the attempt to have him disinvited.
"I strongly support the need to secure our elections, including voter ID for voting," said Steil in a statement sent to the Racine Journal-Times. "I agree with Gateway Technical College's statement, their annual event brings our community together and I am honored to be invited to this celebration. It is disappointing that the NAACP would launch a political attack like this over my support for common sense measures like photo ID to vote. Instead of trying to cancel voices they disagree with, I would encourage the NAACP to listen to all side of this debate."
On Monday, Gateway decided to cancel the event for "illness," even though it was supposed to be held virtually. In its statement, the school said its leaders are looking into the possibility of holding a similar event as part of the college's Black History Month activities.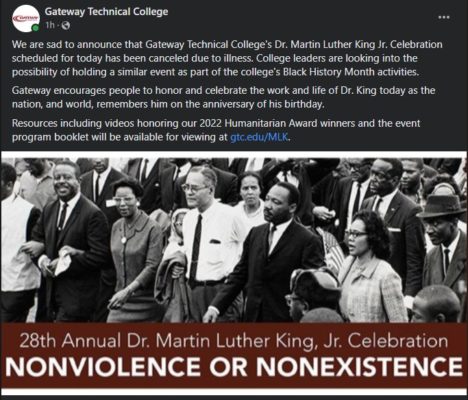 ALERT: Check out our new Campus Cancel Culture Database!
IMAGE: Orhan Cam/Shutterstock
Like The College Fix on Facebook / Follow us on Twitter