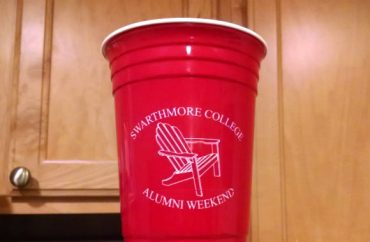 You can make some reasonable assumptions about a college based on how it treats alumni.
My alma mater, the increasingly left-wing evangelical Seattle Pacific University, once rigged a vote on whether alumni should disenfranchise themselves from choosing their own board, calling the poorly advertised proposal a "housekeeping" measure. I never forgot.
Having just returned from the reunion weekend for Swarthmore College, my wife's alma mater, I have concluded that the Quaker-founded school that graduated Michael Dukakis has some curious assumptions about its alumni, known as Swatties.
Specifically, that they returned to campus so they could binge drink.
'Anywhere else it would have been an A'
First, a primer on Swarthmore for those who aren't familiar with the Philadelphia-area school.
It is incredibly nerdy, and proud of that fact. Even Dartmouth's student newspaper took note of Swarthmore's reputation for holding off grade inflation as the rest of higher ed turned GPAs into Zimbabwean currency.
The school's unofficial motto: "Anywhere else it would have been an A."
My wife's Swattie friends would not be out of place in a lineup of the nerds from Saved by the Bell. I'm not joking.
Might as well get wasted
When we arrived on campus for the Saturday evening dinner, what greeted us was a glorified food truck apparently operated by a local brewery.
One food truck. For five classes. At the same time.
As you might expect, this was a grossly inefficient system for serving food to people who paid for the equivalent of a prix fixe menu.
MORE: New documentary shows how colleges waste tuition money 
We didn't get to the front of our line for an hour and a half, most of which everyone spent grousing to each other. That's because the hot food disappeared almost immediately when a new tray came out. Particularly the meat. (That took an extra 20 minutes of line-waiting.)
There were two things you could get promptly: cookies and alcohol. As many refills as you wanted.
"Start drinking now" was the subtext of check-in for the dinner, since the alumni helpers handed everyone our own high-end Swattie-branded Solo cup knockoffs to take home as keepsakes.
It worked. The three draft lines started running dry as I waited in another line to get some meat for our table, two hours after we first got in line and well after dark. I personally went through two pints, something I almost never do.
Not everyone imbibed. I met a few folks who shared their irritation that as non-drinkers, they felt completely shafted by Swarthmore. (There was root beer.)
'It's on us' to tell students one thing and alumni another
Only after we had gulped down our meals, around 9:30, did we learn from others that Swarthmore has pulled this same stunt a few times – hiring a caterer to serve an audience it couldn't remotely handle, foisting alcohol on them in place of food. (Sound like any complaints you've heard about fraternities and campus rape? More on this below.)
This sanctuary for high-performing nerds apparently thinks that its grads would rather get blotto – and then drive back to their lodgings – than eat a normal meal while they can still see the food trays.
MORE: The campus construction 'arms race'
It got one of my wife's friends rather worked up as we chatted in Parrish Hall, the original center of Swarthmore, where some of the more entrepreneurial folks had apparently ordered pizzas instead of waiting in the Soviet bread line.
What kind of message does this send? she argued. That Swarthmore thinks its alumni would rather have an open bar – with all the social problems that come with excessive drinking – than act like responsible adults? (For the record, I didn't see any alumni obviously past their limit.)
As I wandered the halls of Parrish, taking note of all the student clubs and activities advertised on the walls (two campus papers!), the biggest display I saw was for the national anti-rape campaign It's On Us.
It was full of handwritten notes by Swarthmore students pledging to watch out for and protect friends and strangers when they are in vulnerable situations, especially alcohol-fueled parties.
It couldn't have been a more stark contrast with what we had just experienced. One message for current students, the opposite for alumni.
MORE: Sexual-assault campaign by White House can't explain 'consent' 
I don't think Swarthmore is unusual among colleges for having this double-minded approach. It's the natural result of a consumer-oriented higher education system, where colleges try to satisfy every whim of their customers.
They want students to keep paying tuition, so they give them climbing walls and luxury pools and protect them from uncomfortable speech and contrary ideas. They want alumni to keep writing checks, so they ply them with booze.
Swatties are "all known as very, very studious," my wife explained as I was writing this column. "It's not to say people don't drink, but it's a little strange" that Swarthmore spent so much on booze. "We're not a party school."
But it is a hypocritical school.
MORE: Why college students binge drink
Like The College Fix on Facebook / Follow us on Twitter