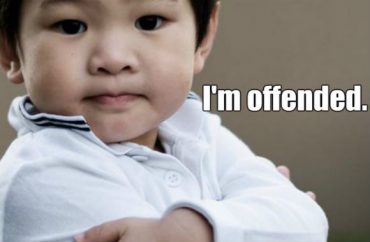 The other day I was walking to get my morning coffee from the best café in the First State when I saw a gent sporting a University of Virginia cap.
The cap had the logo which the politically correct set deemed unacceptable in today's environment: The handles of its sabres featured curves.
Of course, for 99 percent of the population (UVA-affiliated or otherwise), these curved handles pose no objection. Why would they, right?
But the description of their design notes they were made to "mimic" the campus's serpentine walls, and some intrepid members of the UVA community discovered these walls were constructed back in the day to "to hide working slaves and to "'muffle the sounds of their daily life.'"
So, I said to the gent with a sarcastic snicker, "Excuse me, do you know the logo on your hat is considered offensive?'"
I totally expected a confused response, but the guy knew precisely to what I was referring. He let out a huge sigh and replied with a chuckle "Can you believe that sh**?"
I held up my coffee and said "Have a good day!"
But UVA's logo/mascot situation actually makes a bit (just a bit) more sense than some of the other nonsense in the news.
MORE: USC horse 'Traveler' is racist b/c Robert E. Lee's horse was named same
For example, UVA's state neighbor Emory & Henry College is considering changing its wasp mascot not because the insect's sting can lead to death, but because some may associate it with "White Anglo Saxon Protestant."
Possibly more stupidly, Boston University may bag the name "Rhett" from its dog mascot because it's the name of a main character in Gone With the Wind. 
Out west there's San Antonio College's "Antonio the Ranger" whom critics say "typifies ethnic stereotypes and glorifies historic violence against Mexicans and Native Americans."
And these are just recent examples. There are still battles surrounding Native American-related mascots and anything remotely related to American colonialism, among others. Today nothing is really safe. Take a look at the Ivy League, for instance.
Columbia's mascot is the lion. But why not a lioness? They do the vast majority of the hunting, after all, while the lazy (male) lions just sit on their asses. Isn't keeping this mascot sexist?
Yale's mascot is "Handsome Dan," a bulldog. Why a male bulldog? And doesn't "handsome" exclude average-looking and ugly students? Similarly, Brown University's bear mascot is named "Bruno." Why not "Beatrice"?
And over at Dartmouth, the mascot is the "Big Green." Isn't using "Big" biased against short people?
If you're a normal person not overwrought with the teachings of grievance studies, these should all sound totally ridiculous. But the modern academy is all about grievances, and rest assured offenses will be ferreted out one way or another!
MORE: Students protest Cali. gold prospector mascot: 'icon of genocide'
Like The College Fix on Facebook / Follow us on Twitter