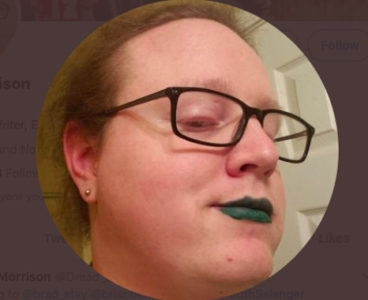 A now-former employee of the Kennesaw State University bookstore said he is considering legal action after being fired for refusing to use less garish colors of lipstick.
According to The Sentinel, recent KSU graduate Stuart Morrison, who identifies as non-binary, told his boss Deborah Hreha "no" when she asked him to stop wearing "black, bright blue and bright green lipstick." Morrison also told her the question was "inappropriate."
After this exchange, Morrison "immediately" filed a complaint with the school's Office of Institutional Equity. A few days later he was canned.
In his termination letter, Hreha notes there had been complaints about Morrison's "unprofessional appearance," and that after her request about his lipstick, he continued to wear flashy colors.
"Those color choices are considered unprofessional, particularly since you are in a position as Lead Retail Associate where there is high visibility and interaction with KSU community members," the letter reads.
It appears the lipstick issue was merely the final straw for bookstore management. The termination letter indicates Morrison had received a Final Written Warning on January 20 for workplace issues, and notes that he "called out, was tardy, left early, or forgot his ID badge" on 17 occasions. He also "did not follow proper procedure" in handling the store's cash bag late last month.
Nevertheless, Morrison believes his firing was due to his gender identity.
"What me, a queer person wearing makeup in a very public position says to other queer people, [is] 'hey, not only are you welcome here, you can succeed,'" Morrison said. "The closeness of being fired to having filed the [OIE] complaint feels very retaliatory to me." …

Neither KSU University Stores nor Assistant Vice President of Strategic Communication Tammy Demel commented on the situation.

In addition to meeting with the OIE Tuesday, March 10, regarding this matter, Morrison is looking into legal action he can take.

"I'm looking into contacting the local ACLU, I'm looking into contacting wrongful termination lawyers, I'm exploring my options — but I definitely plan to do more," he said.

Morrison said that despite what happened to him, people who do not conform to traditional ideas of gender should try their best to take pride in who they are.

"I still think that even with this — especially because of this — people should strive to be who they are because they're going to try to take it away, and we can't let them," Morrison said.
According to the Kennesaw State Employee Handbook under "Personal Appearance," employees are "required to dress in appropriate attire and to behave in a professional, business-like manner." Individual supervisors have discretion in defining "appropriate."
MORE: Non-binary students 'push back' on biological definition of 'woman'
MORE: Harvard's Valentine's dating service offers 'non-binary' gender option
IMAGE: Twitter screenshot
Like The College Fix on Facebook / Follow us on Twitter