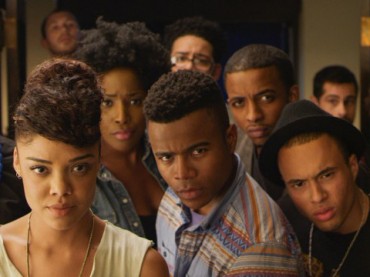 Ohio University President Roderick McDavis wasted no time meeting with black student activists who were outraged when their Black Lives Matter message on a school-designated "graffiti wall" was "defaced."
The Post reports that the message – accompanied by a raised fist – had been painted five days earlier.
Sometime late Tuesday or early Wednesday, the left side was spraypainted over with critical messages: "Wake up you neo-progressive fucks were [sic] more alike than we are different everyone goes through their own shit life is hard It transcends race & gender.
"Being A Person is HARD Seriously Fuck you," the right side read, decorated with hearts. "Black" was crossed out and replaced with "All" in the hashtag.
RELATED: Harvard vandalism likely hate-crime hoax, but school's 'racist' seal on chopping block, anyway
Campus police investigated but said the so-called defacement was not a "crime," and the wall has already been repainted "with a message about obesity and physical education," the Post said. The dean of students and top diversity official as well as President McDavis met with students this afternoon.
They may have covered up the slander but we will not forget….#blacklivesSTILLmatter pic.twitter.com/sdJ64FQCzb

— OU BlackStudentUnion (@OHIO_BSU) December 9, 2015
What's surprising is that Black Student Union members said they were expecting their message to be attacked and covered up – it's a "graffiti wall," after all – so their outrage seems calculated:
Brittney Williams, a sophomore studying biochemistry, said it's sad that black students need to repeatedly say their lives matter and that people interpret it differently than what it means.

"You don't go to a cancer walk and go, 'But there are, like, other diseases,' " Williams said. "We expected people to deface it but not in such an aggressive and just down right disgusting manner."
RELATED: Tweets threatening to kill all black students at Kean U. posted by black female activist, police say
And they came prepared with a list of demands – most prominently, mandatory "cultural competency" classes –  despite no identified suspects or motivation for what could very well be yet another hoax:
Niara Stitt, a sophomore studying political science, said whoever defaced the wall is helping to perpetuate stereotypes about Appalachia and southern Ohio. …

"I think the cultural competency classes would allow people to have difficult dialogues and gain a perspective that they are intentionally excluded from," Jolana Watson, a senior studying media and social change and a member of BLAC, said. "I think overall cultural competency classes would be a way for the university to prove that they are serious in addressing issues of diversity and that they value diversity and not afraid to address and condemn racism."
RELATED: Student who posted 'I'm going to shoot every black person I can on campus' … is black
The Black Lives Matter message on the graffiti wall was itself a response to the tearing down of a bulletin board with a Black Lives Matter message – again, no suspects despite a "Snapchat video" of the defacement being sent out.
@JennyHallJones @ohiou @KDnHD Sargent hall 3rd floor I am honestly scared for my life as a black student living with people like this.

— Victoria Lewis (@_saucyV) November 22, 2015
If Ohio University bothers to undertake a serious investigation of these incidents, don't expect it to release the results. It might not help the prevailing narrative of Black Lives Matter activists under siege.
Meanwhile, pro-life chalkings and installations – which can take hours to set up – are regularly defaced and ripped up (if pro-lifers aren't baselessly accused of vandalism themselves), with little attention and no repercussions for the vandals, even when they broadcast their vandalism.
RELATED: Berkeley High School refuses to identify race of suspect in possible hate-crime hoax
RELATED: The time administrators bemoaned a campus hate crime they knew was a hoax
RELATED: HATE-CRIME HOAX: This Muslim student's wild tale was completely fabricated
RELATED: Campus pro-life group's signs ripped down twice in less than a month
RELATED: Pro-life display vandalized by 'Justice League,' then police accuse pro-life students of vandalism
RELATED: PHOTOS: Pro-choice students brag about vandalizing pro-life chalking on campus
RELATED: Women's Center employee caught red-handed vandalizing pro-life display at UNLV
Like The College Fix on Facebook / Follow us on Twitter
IMAGE: Dear White People