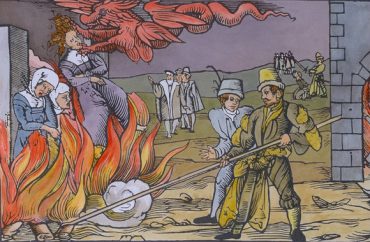 Existing online diversity training is 'not effective'
When it comes to bad jokes involving race, George Washington University's Student Association advocates a zero-tolerance approach that resembles the war on drugs.
Not only must culprits be severely punished, regardless of the actual harm caused, but even those who had no role in the offense must be shamed and excluded.
Now the student government is taking its retaliation to a whole new level.
It wants to punish the entire campus for a poorly conceived joke about slavery by a sorority president who was immediately removed from her organization.
The GW Hatchet, which has previously implied that innocent bystanders were participants in such incidents, reports that the Student Association Senate voted to demand the administration require "in-person diversity training" for all students and all student organizations:
The resolution asks that officials and "historically white Greek councils" publicly acknowledge their racial histories and calls on officials to adopt a "behavior unbecoming" policy that discourages acts of discrimination.
MORE: Student government bans campus newspaper from black student forum
Student leaders have reason to believe the administration will capitulate to their demands. It imposed a litany of new requirements following a blatantly mischaracterized Snapchat photo of two sorority sisters where one was holding a banana peel (someone else had written a bad joke on it).
GWU's rules have become steadily more illiberal in response to student leader demands for purity of thought among the student body.
President Thomas LeBlanc (left) ordered freshmen starting in 2018-2019 to take a diversity course, mandated diversity training for all staff and students "who work closely with students," and instituted a bias incident reporting system that is likely to chill speech across the ideological spectrum.
The online diversity training for freshmen, which "runs through instances of discrimination and hate on campus and asks students how they would handle the situation," is "not effective" in the eyes of senator Raina Hackett, she told the Hatchet.
The student government is talking to Jordan West, director for diversity and inclusion education, about forcing students and student organizations to take in-person training "multiple times" throughout the year. Hackett said the training must be in place "all the time to make sure that everybody is aware of these issues on campus."
Among other business at its Monday meeting, the Senate codified a task force that has been charged with researching "potential names" to replace GWU's longtime nickname "Colonials."
Some members of the community consider the nickname "extremely offensive" to students, "the nation and world at large. The administration has been quietly purging "Colonial" branding from campus in recent months.
MORE: GWU rolls over to mob demands in response to banana-peel photo
MORE: GWU is quietly purging 'Colonial' from campus
MORE: President LeBlanc 'welcome ceremonies' cost $500,000
IMAGES: Everett Historical/Shutterstock, George Washington University
Like The College Fix on Facebook / Follow us on Twitter