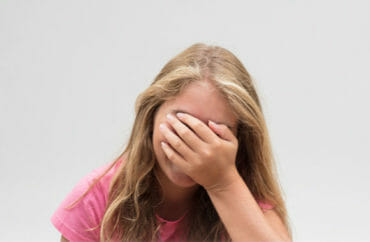 The reactions to the New Jersey high school wrestler who was forced to cut his hair before a match have taken a rather ridiculous turn as a columnist has now chimed in to compare the situation to — ready? — the Holocaust.
Last week, a referee mandated that a black student to snip off his dreadlocks because he did not have regulation headgear to properly secure them. Though the official was correct in following the rules, folks were reminded of a two year-old incident in which the ref spewed a racial slur at a fellow (black) referee during a social gathering argument.
Everyone from race monitor Shaun King to local politicians demanded the official's head on a platter, but columnist Abraham Gutman has the, er, ultimate take:
"[W]hen I saw the video of a black teenage wrestler being forced to cut off his dreadlocks to compete, my mind immediately went to an image from the Holocaust that has stuck with me over the years — Nazi soldiers cutting the beards of Jewish men in the street."
I think back to my elementary and middle-school classes about the Holocaust in Tel Aviv. We were taught that years before the extermination of Jews, Nazi soldiers in Germany and then Poland would harass Jewish people. One way to humiliate Jewish men was to stop them on the street and cut off their beards. The beard is important in Judaism both according to the laws of the Torah but also according to Jewish tradition and spirituality.

Beards are so meaningful in Judaism that a couple of years ago, an ultra-orthodox rabbi in Israel compared the requirement of the Israeli Defense Forces that non-religious soldiers keep a clean shave to the Nazis shaving Jewish men in the Holocaust and called on soldiers to refuse shaving "even if he will receive one hundred lashes and go to prison" (religious soldiers can get an exemption that allows them not to shave).

The Nazis cut the beards of Jewish men as a way to demonstrate control — to humiliate Jews by showing them that they don't have power even over their own bodies. The choice of the beard is intentional. The Nazis attacked the visible element of being Jewish and declared it not welcomed by destroying it.

That is how dehumanization happens. That is how shame is developed. In silence, standing, cutting a part of you so that your body is cleared of your identity. It is cutting the beard, forcing women to stand naked, replacing your name with a tattooed number — those actions of the Nazis were the ways to break any semblance of pride of being Jewish. Shame makes people hide, not resist.
Ironically, this "aspiring sociologist" who sees SS officers at a high school sporting event does not think recent antisemitic dog whistle comments made by Temple University's Marc Lamont Hill are all that big a deal.
MORE: Referee forces wrestler to cut his hair, charges of racism abound
MORE: Univ. official says snowflake students are like Holocaust survivors
IMAGE: Giulio Fornasar / Shutterstock.com
Like The College Fix on Facebook / Follow us on Twitter