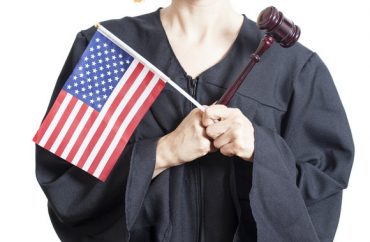 The Texas high school student who was expelled for refusing to stand for the Pledge of Allegiance apparently has reached a settlement in her lawsuit against district officials.
India Landry sued several individuals employed by Houston's Cypress-Fairbanks Independent School District for violating her free speech, equal protection and due process rights, and for "singling her out because she was black."
Texas law states students must have a parent-signed form granting them permission not to stand for the Pledge.
Landry's mother Kizzy had supported her daughter's decision to sit. In fact, according to BuzzFeed News, Kizzy and India met personally with Windfern High School principal Martha Strother, but nevertheless were informed that "sitting was disrespectful and would not be allowed."
The Houston Chronicle originally had reported that the district had agreed to settle Landry's lawsuit, but updated its article on Saturday noting there was no such agreement.
The update indicates Landry and the district agreed to "jointly move for entry of an order dismissing this case with prejudice," that the district did not agree to any "additional notification[s]" regarding students' right to sit for the Pledge, and that the plaintiff's challenge to the constitutionality of the Texas parent permission law remains in effect.
District spokesperson Leslie Francis told Law & Crime that "it was the district's understanding" Landry did reach a settlement with Principal Strother.
Landry's case rested on the landmark 1943 U.S. Supreme Court case West Virginia v. Barnette. Justices ruled that schools could not require students to stand for the Pledge of Allegiance.

"To sustain the compulsory flag salute, we are required to say that a Bill of Rights which guards the individual's right to speak his own mind left it open to public authorities to compel him to utter what is not in his mind," Justice Robert Jackson wrote.

At fact value, the settlement reflects Texas law:

(c) On written request from a student's parent or guardian, a school district or open-enrollment charter school shall excuse the student from reciting a pledge of allegiance under Subsection (b).

"Barnette made clear that the right to abstain from expressing what is not in your mind applies to school children as well as adults," Professor Catherine Ross, a First Amendment expert at George Washington University, told Law&Crime in an email. "In fact, in Barnette there is no more important place to respect individual liberty than public schools 'if we are not to teach youth to discount important principles of government as mere platitudes.'"

"The student in the Texas case gets this," Ross added.

Ross suggested that the Texas law seemed not to reflect Barnette's ruling, adding that "it appears to suggest that the school shall only excuse a student with a parent's note, or must excuse such student."
The U.S. Court of Appeals for the 11th Circuit previously has held that the Texas statute "is a legitimate way to protect parents' interest in determining how their children will be educated on civic values and does not violate the students' First Amendment rights."
MORE: State AG: Students don't have 1st Amendment rights w/o parent form
MORE: District's 'can't kneel for National Anthem' rule violates 1st Amendment
IMAGE: yurchello108 / Shutterstock.com
Like The College Fix on Facebook / Follow us on Twitter