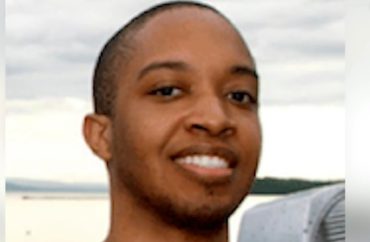 Classes went remote due to credibility of threat
UCLA's former "Philosophy of Race" instructor Matthew Harris is under investigation by law enforcement for sending threatening messages and videos. Police arrested him in Boulder, Colorado, on Tuesday.
Harris (right) has not taught at the public university since UCLA placed him on leave last spring for "[sending] a video containing pornographic content to a student," the Daily Bruin reported.
The university hired Harris as a postdoctoral fellow in 2019 after he graduated with his doctorate from Duke University. His dissertation was "dedicated to [George Friedrich] Hegel, [John] Coltrane and the rights of non-human persons," Harris wrote.
The acknowledgment page included another thank-you to "the contributions of all of my psychological predecessors, especially the non-human."
"[Harris] sent several communications to some philosophy faculty and students, including a link to his YouTube video titled 'UCLA Philosophy (Mass Shooting)' and an 800-page manifesto outlining threats," UCLA's paper reported. "The email did not specify whether Harris sent any threats of a mass shooting."
He uploaded the video on Sunday, and it had over 9,000 views before YouTube deleted it and his entire account. He allegedly uploaded more than 300 videos to his account.
Another video appears to threaten another former university. YouTube deleted a video called "DUKE UNIVERSITY PHILOSOPHY (CATASTROPHIC SHOOTING)."
"EYES OPEN DONT GO TO THE WAKE IT'LL BE A F*CKING CLOSED CASKET," the description said.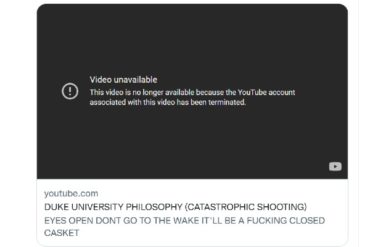 The deleted UCLA video "showed Harris speaking into a microphone, superimposed over footage that included scenes from the 2017 mass shooting at a music festival in Las Vegas," Newsweek reported, based on a viewing of the video before YouTube removed it.
"Other titles of videos included: "MURDER," "my racial angel I'm so glad you exist" and "im a p*dophile, ladies im a p*dophile," Newsweek said. "In one video—titled 'IVE HAD ENOUGH!'—Harris, who is Black, ranted incoherently about race and other topics for about eight minutes, using expletives and making several anti-Semitic remarks."
According to CBS Los Angeles, UCLA announced in-person classes would not take place on Tuesday due to the threats.
MORE: Former professor arrested for vandalizing Lincoln statue
IMAGE: UCLA/KTLA 5; Matthew Harris/YouTube
Like The College Fix on Facebook / Follow us on Twitter