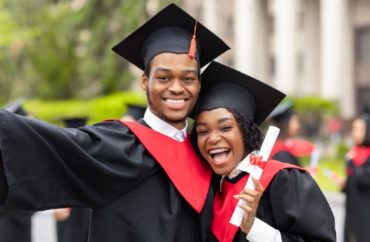 Latino students planned another separate ceremony, too
Racial minority students at the University of Pittsburgh recently had the opportunity to participate in a separate graduation ceremony to celebrate "students of color."
The event, titled "The Gathering," is a "special graduation ceremony to acknowledge and celebrate graduating students of color," according to The Pitt News.
The College Fix could not find a public listing of this commencement ceremony on the university's event calendar.
University officials said the event, which did not include white participants, is a "chance to build unity."
"It's a chance to build unity and community with one another," Office for Equity, Diversity and Inclusion Vice Chancellor Clyde Pickett told the student newspaper. "Ultimately, the success of our students is our most important priority, so I think any elevation and acknowledgment of our students that allows for space for cultural exchange, cultural identity and cultural awareness is a good thing."
Another official, Office of Inclusion and Belonging Director Emiola Oriola, said the idea for a separate racial minority ceremony came about after student organizations requested it.
"In these conversations, the committee listens to requests, desires and innovative ideas that resonate with students, meet them where they are, connect with their generation and reflect on their diverse backgrounds," Oriola said.
The Fix reached out for comment to Oriola and Janine Fisher, communications director for Student Affairs, to ask about the ceremony, if there were future separate celebrations planned, and whether or not it constituted segregation.
Neither responded to the April 28 email. Similar questions were sent to the Latinx Student Association and the African American Alumni Council, but neither group responded. The alumni council has supported similar ceremonies in the past.
MORE: Black UCLA students say they need segregated spaces
The president of the Latino student group dismissed the idea that the separate ceremonies are a version of segregation.
The event is not "separate" or "segregated" Mati Castillo said, but rather an "additional" ceremony.
"I think it's important to acknowledge — with Black students, Asian students, Hispanic Students, Indigenous students, first-gen, low income, they have been traditionally excluded from being able to access higher education," Castillo told the student newspaper. "They have not always been wanted and they've not always been supported."
Castillo's group had an additional Latino student graduation event on April 28 that was separate from the "students of color" event.
"I think we need to be specific," Castillo said. "I think there are times where we come together as you know, students of color, but then we also need to get to celebrate the specific struggles and the specific history of our communities."
LGBT students also had an opportunity to celebrate their specific community at a "Lavender Graduation" held April 27.
Both the Office of Inclusion and Belonging and the Office for Equity and Diversity teamed up with Pitt Queer Professionals for the event.
The ceremony "is an annual ceremony celebrating the achievements of undergraduate, graduate and professional students in the LGBTQIA+ community across all University of Pittsburgh campuses."
Other universities have also held race or sexuality-specific ceremonies. A University of Chicago student group will host a specific ceremony for black graduate student students in June, as recently reported by The Fix.
The event drew criticism from DePaul University Professor Jason Hill, a black philosopher and political commentator.
"The universities are creating racists out of students because, in effect, it is painting white students as persons from whom blacks need to be separated; that whites are an intimidating presence," Hill told The Fix.
MORE: Bucknell student leaders back segregated housing
IMAGE: Prostock Studio/Shutterstock
Like The College Fix on Facebook / Follow us on Twitter