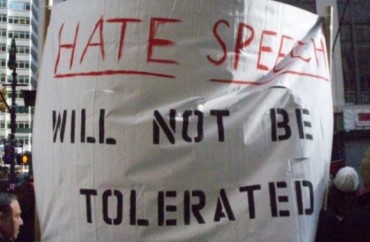 The above is our straight-to-the-point headline; HuffPost College words theirs quite a bit differently: "Americans Are Split Along Party Lines Over Whether Schools Should Punish Racist Speech."
Not to mention, their article saves perhaps the most damning bit of information for the very last sentence:
"Forty-four percent of Republicans in the poll said colleges should not sanction students for making racist statements, while 71 percent of Democrats said they should."
Back in October of 2014, a You.gov poll revealed that 51% of Democrats supported restricting free speech if it is "hateful."
It would have been helpful if the HuffPost story noted a difference between public colleges and private since there's a legal distinction between the two. Only the latter would not run afoul of the First Amendment if it decided to punish a student for racist/offensive speech.
While the 71% (Democrats) figure is rather scary, the GOP percentage should make you worry, too.
In the HuffPost poll, a majority of people — 53 percent — said that colleges should sanction students who make racially offensive statements. Black, Hispanic and Democratic respondents were more likely to agree with this idea than whites, Republicans or independents. (People in the Midwest were also more likely to agree with this sentiment than people in the Northeast, the West or the South.) Among white people in the poll, 48 percent said a student should be punished for racist statements, compared to 33 percent arguing they should not.
RELATED: Poll: Most Democrats support curtailing free speech
The poll also asked whether colleges and universities should prioritize for their students "an absolute right to free speech, even if that means allowing offensive or racist comments," or if it's more important that "students have an environment free from discrimination, even if that means placing some limits on what students can say."

Thirty-eight percent responded that an absolute right to free speech was more important, but 43 percent said an environment free from discrimination was more valuable.

Just 4 percent of black respondents said that an absolute right to free speech was their top concern, compared to 69 percent who said they valued an environment free from discrimination.
Lastly, two-thirds of Democrats believe universities should teach about racial bias, while almost the same percentage of Republicans say the opposite.
This shouldn't come as a surprise, of course, considering the political make-up of college faculty.
RELATED: Using offensive words an 'act of violence,' majority of students surveyed say
Like The College Fix on Facebook / Follow us on Twitter
IMAGE: Ashley Marinaccio/Flickr