'The email seems reckless and could cause serious harm just telling PSU to be on the look out for a general black man,' student stated
A Portland State University student filed a bias complaint against the campus police department for mentioning the race of a potentially dangerous individual on the loose.
"The email uses problematic language to identify the suspect," the student complained in the report filed with administrators. The student added the language "puts a target on so many campus community member's [sic] backs."
Writing that other such warning emails have had similar references to race, the student asked the police department to "reconsider the language used in these emails."
This is one of 82 complaints filed between 2019 and 2021 with the Portland State Bias Review Team, which allows students and faculty to anonymously report "bias" violations against others, even if they take place in a private setting.
The reports were obtained last week by The College Fix through a public records request. The identities of the parties involved were redacted by administrators, and approximately 22 of the reports were fully redacted.
The "Timely Warning" alert (below) sent by police December 2021 stated there had been two unsuccessful robbery attempts of two separate vehicle operators near campus the previous evening. The suspect was identified as a 20-year old "African American male" dressed in all black and not having any facial hair. The suspect was not masked when the robberies took place.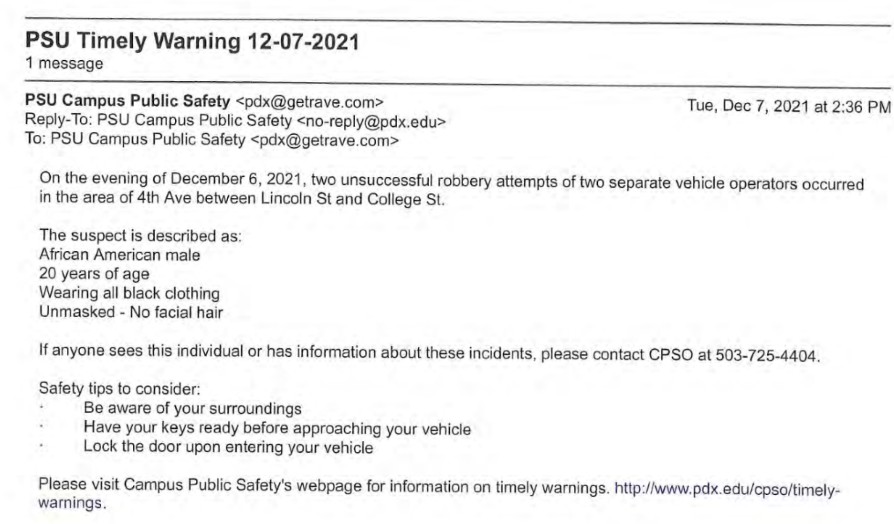 "CPSO could have said 'students should be aware of their surroundings…use the buddy system when walking to and from…specific resources to use are this,'" the student wrote in the complaint. "The email seems reckless and could cause serious harm just telling PSU to be on the look out for a general black man."
The reports were obtained as The College Fix continues to investigate the types of complaints that are lodged through bias response teams at college campuses across the nation. More than two dozen universities have been included in the investigation so far since it launched in 2019.
"Portland State University is committed to addressing bias incidents on campus and in our community and will provide individuals with resources and support when someone experiences a traumatizing event," the school's website reads.
"Bias is harmful to individuals and the community," it states. "When you are hurt, the community is hurt."
"Portland State's Bias Review Team is designed with the goal to address campus climate by providing resources to those impacted by bias, collecting and sharing data and providing recommendations based on information gathered," spokesperson Katy Swordfisk  stated in an email to The College Fix.
"Our Bias Review Team does not function as a punitive entity, and has broad representation including students and faculty," she said, adding the reporting website, "is for anyone who has experienced, witnessed, or heard about a bias incident." She noted completing the form "does not initiate a student conduct investigation, or an employee discrimination or harassment investigation."
However, the Bias Review Team includes campus law enforcement on its board, which has led some First Amendment activists to conclude that such a system creates a literal "speech police." Willie Halliburton, campus chief of police, is among the members of the board.
MORE: Professor accused of bias for teaching both sides of U.S.-Mexico border wall debate
In March 2019, The Fix looked at bias complaints that had been filed at PSU in the previous year. Among them was a complaint about a student in a classroom that joked she was feeling "schizophrenic."
"She then stated she was not trying to make fun of schizophrenia," a student that overheard her reported, "but that sometimes she can be 'schizophrenic.' … She stated this in a joking manner and even laughed about it."
In another complaint filed with the PSU Bias Team in 2021, a student accused a professor of making "outdated" jokes against people who collect data for a living.
"The bias comes as the instructor makes consistent jokes about non-binary gender," the student wrote. "The instructor also makes bias judgements about people that work with qualitative data as if they less [sic] than quantitative data."
"This would be a harmless joke if the instructor didn't reflect this bias in the course focus and materials," the student added. "[Some] students work with qualitative data and to have an instructor instructing on it with a clear bias is not productive."
Other complaints filed with the school's administration included:
-In September 2021, a faculty member attending an online conference was reported for growing irritated during a "tech check" in which the equipment was not working properly. As the conference was being set up for the keynote speaker to talk, the faculty member got angry with the technological issues and "interrupted, spoke over, and was disrespectful towards the keynote speaker for having tech issues."

"At best, [he] was highly unprofessional and at worst his behavior was a form of misogynoir," the complaint read. ("Misogynoir" refers to prejudice against black women.)

A second complaint about the same incident accused the faculty member of displaying "toxic masculinity."

-A report filed in September 2021 complains that flyers providing resources for victims of sexual assault were only posted on female restroom doors in the Montgomery Residence Hall.

"It perpetuated a common stereotype that male identifying and non-binary people cannot be victims of sexual assault," the student complained.

-A student complained that the Portland State Disability Resource Center is "pushing Critical race theory [sic] and anti-white hate."

-A frustrated PSU employee complained that women aren't getting their due during the pandemic.

"I don't have a specific day (it's felt pretty ongoing since March), but as a woman and mother trying to parent and work right now. The expectations on moms are crazy and men aren't held to the same standard," the employee wrote. "A woman interrupted by her kids is seen as unprofessional and a man is seen as a good father. I'm feeling pressure to quit my job because of the unrealistic expectations for parents during the pandemic," the employee wrote.

-Another woman who said she wasn't a student or employee complained that her estranged husband is having sex with another woman and that constitutes "bias."

"My children are 9 and 10 years old," she writes, adding that "they are telling me their father (we are separated) is being recruited to be a computer scientist professor by another woman from their private school."

"The children are telling me its [sic] an intimate relationship and shared playdates where the activity seems to be recruiting for a professional position on campus. I believe this is a form of bias hiring [sic]."

She goes on to say her husband is "manipulative, embezeled [sic] tens of thousands of dollars…and is known for slander and libel." She says he "should not be…at PSU (he's a narcissistic predator) nor should your campus recruiting patterns involved [sic] shared playdates with minors and or implied development of an intimate relationship."

-A student complained that mandatory Zoom discussion of the 2020 election triggered them and made them feel "unsafe."

"I have not felt comfortable joining in class discussions since the beginning of the term," the student wrote. "They have began [sic] each online lecture discussing inappropriate talk that should not take place in a class where you are graded for your involvement and participation."

"Regardless of the election's importance," they continue, "if I don't feel comfortable by their bias discussions [sic], how am I supposed to involve myself in discussions without the feeling of opinionated attacks? I would like to be removed from the course for this reason…As a class, we should all feel safe talking with one another, yet I do not."
MORE: Making jokes at Portland State gets you reported to its bias response team
IMAGES: Krakenimages.com/Shutterstock; Portland State University
Like The College Fix on Facebook / Follow us on Twitter