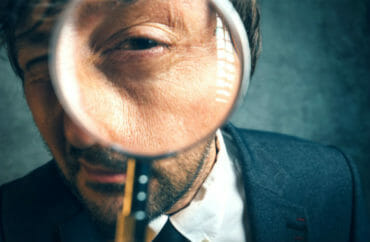 There's skepticism brewing around a hate crime charge at the University of Wisconsin-Eau Claire: A Native American student claims someone wrote "Go back to the rez red n***er" on her dorm room door.
"Rez" stands for "reservation," apparently.
One week ago, junior Kayde Langer says she discovered that her door decorations were "defaced" with the racist statement, according to a report in The Daily Cardinal.
Langer told the DC that she had planned to file a formal complaint, but was skeptical since past incidents with which she dealt weren't investigated by the university.
"I've had other incidents, and administration a lot of the time ignores us," she said. "I've been ignored multiple times, and there's no consequences to being racist."
Langer demanded the culprit be disciplined: "I want them held accountable, whatever measure that has to be. I don't think they should be educated because at this point, this is intentional harm and not a lack of education."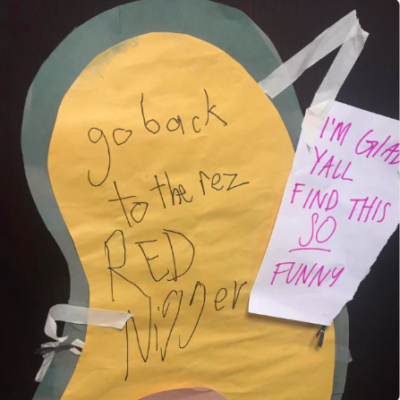 Langer shared a photo of the graffiti on Twitter (screencap above); however, her account has since been changed to private.
Dan O'Donnell at WISN 1130 says "serious questions" should be asked about this hate crime. He notes that Langer, a member of the Ojibwe tribe, wrote about one of the (alleged) past incidents she faced in the UW-Eau Claire "free speech" paper The Flipside.
In her article, Langer wrote "If you only knew that some of your parents were calling us red n*ggers."
That epithet, which O'Donnell says Langer used again later in her piece, "is a very specific and very uncommon slur." Google and social media searches provide very few examples of its use.
"That Langer would use it in April and then see it written on her door in September is a startling coincidence," O'Donnell writes.
Langer also has written about her disdain for white men in The Flipside; she noted in a pre-Halloween article that "you don't have to dress up like the people that your ancestors could have raped and murdered," and wondered how sex between Native women and white men could ever have been consensual since they didn't speak the same language.
While it could very well have been written by the student who allegedly told her that she doesn't belong on campus because she isn't white, the fact that it is such rarely-used phrase and appeared twice in her writing and on her door within six months lends credence to the belief among members of the UW-Eau Claire community that Langer may have written it herself.

"I have dealt with racists in my time, and heard a lot of epithets, but that one was new to me," said one source. "Specific and offensive of course. And it turns out that she used it herself? That's just suspicious." …

Moreover, just hours before allegedly finding a racist note on her door, Langer tweeted out a plea for her followers to send her money via PayPal to fund her 21st birthday party the following evening.

"My birthday is tomorrow and I'm a broke college student so if any of y'all are feeling generous please feel free to send a little something," she wrote, adding a link to her PayPal account.

Members of the UW-Eau Claire community have raised questions about the timing of this, asking whether sympathy Langer garnered from the note allegedly written on her door might prompt people to give to her birthday fund.
O'Donnell notes Langer's Twitter account was switched to private after people began inquiring about her claims.
UW Assistant Chancellor for Facilities and University Relations Mike Rindo said the school "isn't taking this incident lightly."
"UW-Eau Claire does not tolerate racist or hateful activity like this and takes it very seriously, and Chancellor [Jim] Schmidt has made equity, diversity and inclusiveness one of the cornerstones of our strategic mission," Rindo said. "This is something that gets a lot of attention and a lot of resources at our university, and that's how we deal with these kinds of incidents."
Read the Daily Cardinal and O'Donnell articles.
MORE: Four reasons why hate-crime hoaxers do what they do
MORE: 50 campus hate-crime hoaxes The Fix has covered since 2012
IMAGES: igorstevanovic / Shutterstock.com, Twitter
Like The College Fix on Facebook / Follow us on Twitter