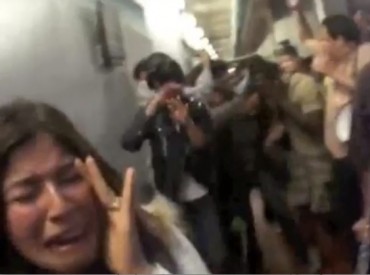 Last night police clashed with students at Santa Monica College. Students resorted to violence while protesting a proposed two-tiered tuition system, which would raise the price on some core courses at the college.
Students assembled at the door, demanding to be allowed to enter a meeting of trustees, where the proposed cost increase was being discussed.
They shouted "Shame on You," and "Let us in," in unison, and pressed against the door to the meeting room, which was guarded by campus police.
Some students held up raised fists, and a group attempted to rush against the police and force their way in. The police fought back against the crowd with pepper spray, striking protesters with batons, sending the frenzied crowd into retreat.
Watch video of the chaotic scene below:

Another raw video shows students weeping and fleeing the scene.

Last night's episode follows a similar pepper spray incident at UC Davis last fall. In that instance, members of the UC Davis Occupy Movement surrounded police, and police dispersed the crowd with pepper spray after students ignored several warnings to back down.
Members of the Occupy movement linked last night's battle with Santa Monica college police to the earlier clash at UC Davis.
Two Santa Monica students were hospitalized, and more than two dozen other suffered minor injuries.
The Los Angeles Times reports that Board Chair Margaret Quinones-Perez promised at the end of the trustee meeting that the college would pay medical bills for any students who suffered injuries during the disturbance. Others are calling for an investigation into police actions.
Last night's clash follows a pattern of confrontation between students and police at the college. Last Thursday students blocked a stairway in a campus building, and police were called in to break up the disturbance.
Last night's demonstration appears to have been organized by a group that calls itself the Santa Monica College Student Organizing Committee. Reader comments on the group's Facebook page on Wednesday morning included remarks such as "Cops off campus now," and another referring to police as "F***ing pigs."
The Occupy Santa Monica College Facebook page featured a link to the Student Organizing Committee's page on Wednesday, although it is unclear whether the two groups are directly related.
In spite of the violent confrontation with police, no students were arrested.
Click here to Like The College Fix on Facebook.