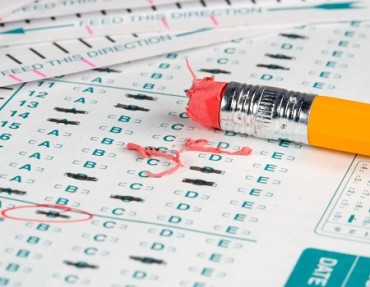 The New York City Department of Education has backed down on its decision to ban 50 words from standardized tests in the city.
The department received widespread ridicule after a New York Post story revealed the existence of the list last week. The aim was to protect children from unpleasant feelings that could result from including potentially incendiary language in standardized test, but the DOE's classification of such language appeared overly broad to many observers. The list included words and topics such as home computers, which would have been prohibited out of concern for low-income students who might only have access to public computers. "In-depth discussions of sports that require prior knowledge," "vermin," and "dancing" would also be off limits.
Parents and students reacted strongly to the ban, which ultimately led to its defeat.
Katherine Mangu-Ward, a senior editor at Reason who covers education, said the ban exceeded the reasonable boundary of content cultivation for standardized tests.
"You probably don't want to break the news about the Tooth Fairy in a test for first graders, but creating a sanitized world for the purposes of test-taking—one where war, whoopie pies, and the watusi don't exist—is absurd," she said.
CBS New York provided the full list of terms that the Department of Education wanted to ban. The list includes "birthdays," "celebrities," "cigarettes," "Halloween," "hunting," "gambling," "junk food," "magic," "religious holidays," and "rock-and-roll music."
According to the argument presented by the New York Department of Education, simply using these everyday words could qualify as discrimination.
By way of defending the ban while admitting its defeat, Shael Polakow-Suransky, the city's chief academic officer, said, "New York City schools teach the broadest, richest curriculum in the nation and we can't let this distract from the important work going on our classrooms."
But a broad, rich curriculum should include inflammatory topics, according to Mangu-Ward.
"Exposing kids to potentially inflammatory topics in a high-stakes testing environment now means that later—when they're at a job interview or on a first date—they don't get knocked for a loop when someone mentions they grew up in a home with a swimming pool or that their dog came from an animal shelter (both forbidden topics, for crying out loud)," she said.
Schools Chancellor Dennis Walcott defended the ban.
"We're not an outlier in being politically correct," he said. "This is just making sure that test makers are sensitive in the development of their tests."
Mangu-Ward disagreed.
"Life is full of things that make us uncomfortable," she said. "Sometimes those things crop up at inconvenient times. That's why it's important to raise pluralist, tolerant kids."
Fix Contributor Julie Ershadi is a graduate of Bryn Mawr College.
Click here to Like The College Fix on Facebook.