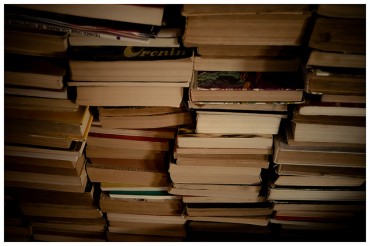 Katy Bachelder writes for the Hillsdale Collegian:
As students in American Heritage class discuss political theorist Russell Kirk's essay in their course readers, the author's personal books sit perched above them in Lane Hall. More than 10,000 volumes are packed away in boxes on the locked fourth floor. Placed in storage during library renovations more than a decade ago, the books are a valuable piece of conservative history.

But 18 years after their arrival on campus, no one can read them — and the papers that once were supposed to join them never have arrived.

"I'm very glad to have Russell Kirk's books at Hillsdale College," College President Larry Arnn said. "We're going to build a place for them and we have a commitment to do it."

Kirk (1918-1994) spent most of his life in Mecosta, Mich. He authored "The Conservative Mind," an influential book whose 60th anniversary is this year. He was a fierce critic of modernity, and an even more outspoken defender of tradition, mystery, and social order.

"He was a man of phenomenal intellectual output and versatility," historian George H. Nash said. "He was constantly urging us to look deeper and higher in defense of what a good tradition should be."

Kirk taught at Hillsdale College in the 1970s and '80s, holds the record for most CCA speeches, and sent two daughters to the college. He hosted weekend seminars for students at his home. In 1985, he gave the commencement address and the college honored him with its "Freedom Leadership Award." The American Studies department has an endowed chair named after him.

Chairman and Professor of Art Sam Knecht recalled seeing Kirk in the halls of the old fine arts building, where he had an office.

"My initial impression of the man was that he looks interesting, but he mumbles if you speak to him." he said. "Eventually, I started coming across some of his articles. Then I understood."

Kirk told the Collegian in 1974, "I am very fond of Hillsdale. In fact, it is one of my favorite colleges."

During the final years of his life, Kirk and his wife, Annette, arranged for Kirk's personal library and papers to come to the college after his death. The books arrived in 1995. The library hired extra students to help catalog the vast collection, and eventually some items were displayed in the Carr Library. The college also commissioned Knecht to paint a portrait of Kirk.

A Collegian article from March of 1995 reported "an area within the Carr Library is being worked on with the intent of opening it as a 'reading room' much like that of the von Mises room," referring to the basement room in Mossey Library that contains the books of Austrian economist Ludwig von Mises. But today there is no Russell Kirk reading room. Knecht's portrait hangs in the office of Head Librarian Dan Knoch.

"I don't know if that was a funding issue," former Head Librarian Dan Joldersma said. "I'm not privy to all of the reasons it never occurred. The painting would have gone into that room."

Annette Kirk, who continues to live in Mecosta and runs the Russell Kirk Center for Cultural Renewal, declined to comment for this article…
Click here to read the rest of this article.
Fix contributor Katy Bachelder is a senior at Hillsdale College.
Click here to Like The College Fix on Facebook.