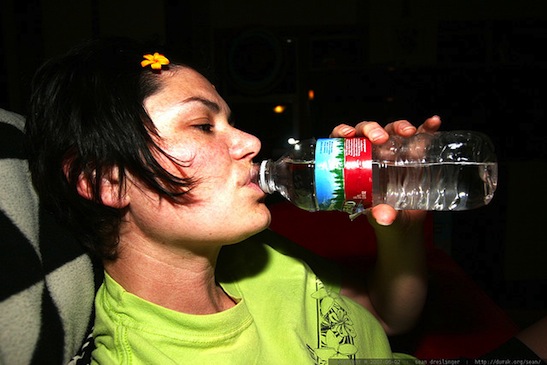 A University of Virginia student was arrested after she fled from state alcoholic beverage control officers–with a bottle of water in her hands.
The raid was intended to crack down on suspected alcohol possession by underage youth. But the "raid" ended up looking like a case of embarrassing overreaction by authorities.
According to a news report of the incident, Elizabeth Daly, 20, bought "a carton of water, cookie dough and ice cream," and then attempted to exit the Charlottesville store.
That's when things started to get crazy.
A state beverage control officer–dressed in plain clothes, mind you, not in a uniform that would allow the young lady to easily identify him–approached Daly because the officer thought she was carrying a case of beer.
Apparently, being confronted by this unknown stranger, who was not in uniform and who was demanding to see what she had purchased, spooked the young lady. She told a reporter she and her friends were "terrified" by the sudden confrontation. Well, that's understandable. Unfortunately, she fled in her car and in the process "struck" two government agents.
Quicker than you can say the words "bottled water," she was booked on felony charges of assaulting a law enforcement officer and eluding police.
Those charges were soon dropped. (A fact that implies to me that her car didn't "strike" the two officers with much force, and more than likely simply came into contact with them as they were trying to prevent her from driving away.)
These days, everyone's talking about the rising "police state"–the controversial NSA surveillance program, and now reports of a White House order that, essentially, requires federal employees to spy on one another. Elizabeth Daly's story won't garner the headlines of these other big national stories, but her saga is evidence of the same sort of principle at work: It's a case of vigilant police work gone too far.
So next time you buy a bottle of water, keep a sharp eye out. An undercover government agent could come storming in at any moment!
Nathan Harden is editor of The College Fix and author of the book SEX & GOD AT YALE: Porn, Political Correctness, and a Good Education Gone Bad.
Like The College Fix on Facebook.  / Follow Nathan on Twitter @NathanHarden
(Image by Sean Dreillinger / Flickr)