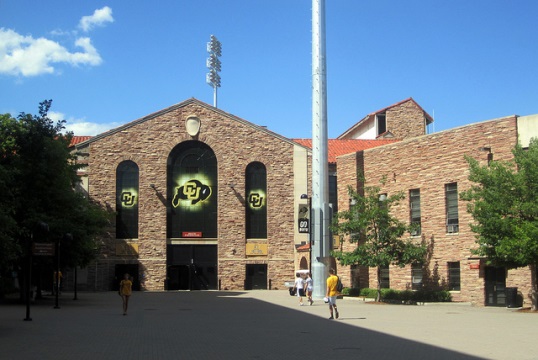 Some University of Colorado – Boulder students are none too happy about classes resuming Monday on the heels of a massive natural disaster that flooded the state and has left thousands homeless and hundreds still missing, with active search-and-rescue operations ongoing.
A petition on the liberal activist website MoveOn.org came as a response to university officials' decision to reopen campus Monday, and it garnered about 4,000 signatures by 2 p.m. on Monday – largely by word of mouth on social media sites – before it was mysteriously removed some time last night with no explanation.
MoveOn was one of President Obama's biggest campaign supporters and is an active left-leaning political action group.
"I signed the petition because their judgment call seemed hasty. It was a little insensitive and untimely," junior Liv Leyshock, 20, told The College Fix, referring to campus officials. "The rest of Boulder Valley school district was closed."
CU Boulder senior Bill Shrum, 35, said he signed the petition because he felt students were being punished for circumstances beyond their control.
"I've kept in touch with friends that are in Longmont and they can't be here now," Shrum said. "They are penalized for not being here and it's fairly inappropriate."
Shrum said the petition was an important outlet for students to express their frustrations, but added "I don't think you are going to see an administrative response."
While many parts of Colorado are still affected by flood damage, life in Boulder is slowly returning to normal. It has electricity and its residents are focused largely on clean-up efforts now.
The petition, started by an "anonymous student," claimed the Boulder community was wounded by the floods and it was not right to hold classes and other campus activities while students and others suffer. It encouraged people to sign the petition so Chancellor Philip DiStefano would receive the feedback and re-close the campus. It had been shut down Thursday through Sunday because of the floods. As an aside, CU Boulder is known to rarely offer students a snow day off after a heavy fall.
Many of those who had signed the petition, which has been removed from the MoveOn.org site, were not from Boulder, or even Colorado. One of the signees was from Canada, and others called New York, Washington and Oregon home. Other supporters hailed from Colorado cities such as Littleton and Lakewood.
"Anonymous Student," the creator of the petition, did not respond to inquiries by The Fix. Little is known about whether they were an actual student or prankster.
The petition did not acknowledge the ongoing efforts of campus administration with victims' assistance to provide housing, food and emergency services to those in needs.
Late Monday, campus President Bruce Benson and Chancellor Di Stefano sent a campuswide email to students informing them about the additional actions they are taking to rebuild the campus community. In the email they acknowledged the disaster has severely impacted the community in a traumatic way, but added they were helping to address that, including a disaster relief fund and counseling services.
Leyshock said even though she signed the petition, the Boulder community is assisting neighbors, and came together in a time of need.
"If Boulder is one thing, it's a community," Leyshock said. "Neighbors taking in other neighbors. There's unexplainable amount of generosity on this campus."
Fix contributor Aslinn Scott is a student at CU Boulder.
CLICK HERE to Like The College Fix on Facebook / TWITTER: @CollegeFix
IMAGE: Wally G/Flickr