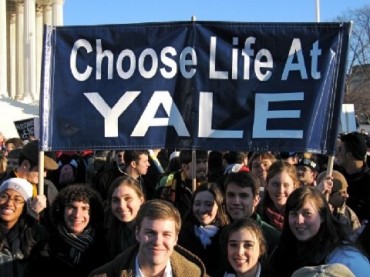 A pro-life group at Yale University was denied campus support from the Ivy League institution's campus-based, student-run service organization, a decision made by secret-ballot Wednesday after Choose Life At Yale was given exactly one minute to plead its case to the group's leaders.
"In case anyone was wondering, Dwight Hall decided that helping mothers and their children wasn't actually social justice tonight," student Courtney McEachon, a past president of the group, wrote on Choose Life At Yale's Facebook page after the vote's outcome was made public.
Dwight Hall is the name of the social justice and service organization that denied CLAY an official membership into the organization, and with that all the perks that come with it: funds, access to loaner cars for service projects, printing services, a spot at freshmen recruiting events, and other benefits.
"But most of all, (membership) would have affirmed the conviction of CLAY members that the cause they served, whether by marching in DC or volunteering at a crisis pregnancy center, was a legitimate component of social justice," Matthew Gerken, a former president of Choose Life at Yale, stated in a column on First Things.
Christian Hernandez, the group's current student president, told the Yale Daily News that "we are all obviously disappointed and frustrated with this decision, especially after having gone through this year-long provisional process."
Dwight Hall has an annual budget of $800,000 and consists of more than 90 student-run member groups that tackle a variety of service projects and social justice causes, including tutoring, homeless outreach, environmentalism, homosexual advocacy, Palestinian statehood and more. Its mission is "to foster civic-minded student leaders and to promote service and activism in New Haven and around the world."
It was the 90-member Dwight Hall Cabinet's member group leaders who denied Choose Life At Yale membership.
"We don't know why Dwight Hall denied membership to the pro-life group," Gerken wrote. "The ballot was secret and the count unannounced, and the established procedure (perhaps ironically for a social justice organization) allotted only sixty seconds for CLAY to make their case while strictly banning any further discussion."
"We know it couldn't have been perceived religious differences, since Dwight Hall already contains Christian, Jewish, and secular groups," he added. "We know it couldn't be CLAY's political advocacy, because Dwight Hall endorses advocacy—even legislative advocacy—as part of its mission and a core component of many of its groups' activities. Perhaps it is because CLAY's work cuts too close to the core. Perhaps it makes many of Dwight Hall's leaders uncomfortable to be challenged by the witness of pro-lifers taking time from their week to serve women in need, whether in order to ease their choice for life or to help them heal after they have chosen otherwise."
McEachon told the Yale Daily News that the female student who led the meeting that night chose to wear a "Yale feminists" T-shirt.
"It was an affront because the person wearing the t-shirt was leading the meeting," she said. "It seemed like a shameless plug against CLAY."
The decision by Dwight Hall leaders comes after CLAY hosted its inaugural pro-life conference on campus last fall. Called "Vita et Veritas: Promoting a Culture of Life and Truth," CLAY members stated on the conference website that "too long have pro-life organizations on large liberal universities felt marginalized or condemned for a viewpoint that is hardly in vogue within society."
CLAY had also applied twice to become a member of the campus' Women's Center, but was rejected both times because the group does not support "reproductive freedom," the Yale Daily News reports.
Jennifer Kabbany is associate editor of The College Fix.
Like The College Fix on Facebook / Follow us on Twitter
IMAGE: Facebook screenshot