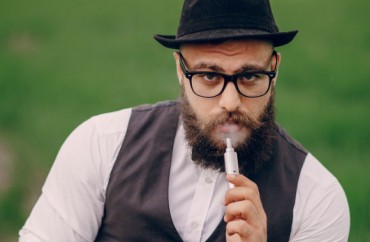 If you see something, say something.
Ohio University isn't currently using fines to punish people who violate its smoking ban, which includes "all nicotine, tobacco­-derived and plant­-based products" (including e-cigarettes) and takes effect this semester, The Post reports.
Rather, it's taking a page from the Department of Homeland Security:
Officials are relying on compliance from both smokers and nonsmokers. [Tobacco-­Free Campus initiative coordinator Catherine] Lee asks that if a student sees someone using tobacco on campus, he or she should remind the smoker that OU is a tobacco­-free campus and the use of such products is not allowed.
Though it's being pitched as a "wellness" policy now – hence no fines – the school hints that you could get in trouble if several finger-wags from strangers don't change your behavior:
A code of conduct charge for a student and progressive discipline for an employee could be possible if they continue the use of tobacco products after several conversations and documentation have been noted, although Lee hopes conversations can stop this from happening.
Though the school graciously allows its community members to puff away off campus, smokers may have trouble finding a place to light up because the university's home of Athens also banned the use of "all tobacco products" (but not e-cigarettes) in city-owned recreational areas including parks, The Post previously reported.
Students are skeptical the ban will have much effect. Freshman Whitney Belcher says:
"There will be many freshmen, sophomores and upperclassmen, even faculty members, who have spent many years smoking and, quite frankly, they might need it to be able to go on with their days. I just simply don't understand or see how it's going to work."
Another student wrote an op-ed in July calling for OU to hire "special employees" to spy on smokers and punish them, favorably citing Saudi Arabia's crackdown on smoking in restaurants:
Therefore, the government decided to close any restaurant as a punishment if it's found serving smoking products or allowing smoking in indoor areas. So, it seems that regulators have an important role setting up punishments needed, improving regulations to be obeyed effectively and updating these accordingly.
Read the Post story and op-ed.
Like The College Fix on Facebook / Follow us on Twitter
IMAGE: Shutterstock