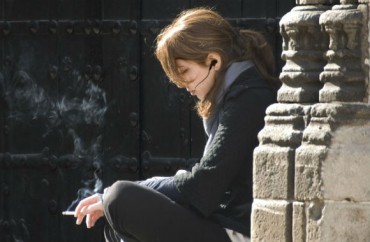 This would make for an interesting segment on Cops, wouldn't it?
At a time when policymakers across the political spectrum are urging a lower profile for law enforcement and less confrontational approach between citizens and police, the University of Illinois is actually telling its students to call the cops if they see someone smoking on campus.
The Daily Illini reports that the administration sent a campuswide email Tuesday announcing changes to the Smoke Free Campus Policy, instituted less than two years ago, which were allegedly made to comply with new state law.
It calls for a much more visible role for campus police:
First-time offenders will receive a written warning. The second-time a person violates the act, the offender will be charged a $25 fine that can be waived through an online education program. A third violation is punishable by a $50 fine; each additional violation is punishable by a $100 fine. …

The massmail encourages students to call the University Police Department to dispatch an officer if they see the policy being violated on campus.
Students who want to light up should check a "campus property" map, and hope their peers are more chill than the administration.
Like The College Fix on Facebook / Follow us on Twitter
IMAGE: Sergio Morchon/Flickr