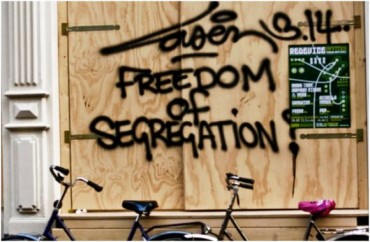 Back to the future yet again.
This time, the Nashville, Tennessee chapter of Black Lives Matter is upset that the city public library won't permit racially exclusive meetings in its buildings.
The BLM chapter's rules state that "only blacks or other minorities are allowed to attend."
Library officials point out they're merely following policy which states "all meetings at their facilities must be open to the public and news media," and spokeswoman Emily Waltenbaugh clarified: "The library didn't cancel anyone's meeting. We're taxpayer funded. We have to be open to anyone any time."
Previous — exclusionary — BLM meetings went on because library staff were unaware of the group's policy.
BLM's reaction to the library? "White supremacy" is to blame.
"Due to white supremacy in our local government, this week's BLM General Body Meeting location has changed," a notice posted on the Nashville chapter of Black Lives Matter's Facebook page reads. [View the notice.] The notice says the group's meetings are "open to black and non-black people of color only."
RELATED: Notre Dame hosts Black Lives Matter event, offers 'white privilege' class
"We were surprised about it, but we shouldn't have been," [Nashville BLM organizer Joshua] Crutchfield said. "We kind of know the history about how this goes in this country. … It's definitely something we want to make public to tell people what's going on in the city."

Waltenbaugh stressed that the library didn't cancel the group's meeting but alerted the Black Lives Matter chapter to the library's policy of all meetings open to all. When members learned of the library's policy, they chose to move their meeting to a new location, she said.
By all means, Mr. Crutchfield, make this news public. It's sure to do wonders for your organization's image.
RELATED: American University bans filming of Black Lives Matter co-founder as she promotes filming cops
RELATED: Harsh media glare saves Wesleyan student paper from slashed funding over Black Lives Matter column
Like The College Fix on Facebook / Follow us on Twitter
IMAGE: Tavallai/Flickr