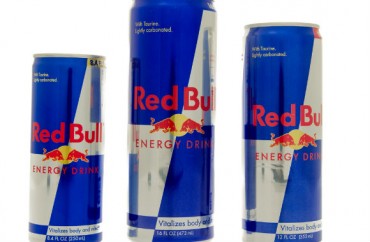 Because they are associated with 'stress'
Red Bull gives you wings, but Middlebury College clips them.
The small liberal arts school in Vermont has officially banned the sale of popular energy drinks on campus in the name of student health.
Some students have praised Middlebury's paternalism with language that echoes the late Nancy Reagan's 1980s anti-drug campaign "Just Say No."
Middlebury's health czars allowed one exception, though: an ethnic-sounding beverage whose main ingredient has been linked to cancers that are common in South America.
'You don't understand the role of energy drinks in systems of oppression'
The sales ban on drinks including Red Bull and 5-Hour Energy went from proposal to approval in barely two weeks, in a process led by students, and took effect last week.
At a Community Council meeting Jan. 19, Dining Services intern Myles Kamisher-Koch argued the sale of energy drinks violates Dining Services' stated mission to "nourish and nurture today and tomorrow by sustaining mind, body and earth."
He claimed that a study found "up to 25 percent of current drinkers combine alcoholic beverages with energy drinks," and said energy drinks promote a "culture of stress," The Middlebury Campus reported.
Other students at the meeting echoed Kamisher-Koch, saying that energy drinks are "linked to high sex and drug use" and that Middlebury has "a responsibility to direct students to healthy choices through what they provide," the Campus reported.
Student Charles Rainey blasted the proposal, though, telling the council it was "controlling what people consume" and assuming they have no self-control.
The 19-member Community Council is made up of administrators, faculty, student leaders and regular students. According to its handbook, on some issues the council makes its own decisions, which are then implemented as Middlebury policy. It includes Middlebury Dean Katy Smith Abbott.
The proposal was adopted 11-1 at the council's Feb. 2 meeting and became Dining Services policy.
Students on the anonymous social-media app Yik Yak poked fun at the ban.
"I thought it was the outrageous amount of work that was negatively affecting my sleep habits! Silly me!!" one wrote.
Another commenter gave a sarcastic response:  "You don't understand the role of energy drinks in systems of oppression created by capitalism designed to increase productivity at all costs for the sake of financial profit."
Administration: 'Ridiculously overblown'
In response to media coverage – cafe worker Arnav Adhikari told NBC News he didn't see what "energy drinks have to do with sexual activity" – the Middlebury administration played down its role in spite of Abbott's participation.
"A lot of the language associated with the story has been ridiculously overwrought, which has caused the story to be overplayed," News Director Stephen Diehl told The College Fix in an email. "The administration at Middlebury never discussed this and we view it as a community issue where the views of Community Council should be given significant weight."
The executive director of Dining Services, however, told NBC News that the ban makes sense and that "I see it as banning cigarettes."  
The administration's official statement read: "Middlebury College respects the work its students, faculty and staff have done in researching the health effects of energy drinks and in making the recommendation that the College no longer sell such drinks in our campus retail outlets. We hope that this move will contribute to a healthier campus environment."
Same compounds as 'tobacco smoke'
The council exempted Guayaki brand Yerba Mate, which remains available for sale at the three campus retail locations, based on its perceived healthfulness.
Yet drinking yerba mate, a tea-like beverage popular in South America, "has been associated with cancers of the esophagus, oropharynx, larynx, lung, kidney, and bladder," according to a study published in Cancer Epidemiology, Biomarkers & Prevention in 2008.
Mate has the same compounds as "tobacco smoke and other burned organic material," and though the study didn't test the Guayaki version, all eight commercial brands that were tested showed "very high" levels of "known," "probable" and "possible" carcinogens.
The Mayo Clinic also warns consumers that yerba mate's boosters have "no definitive evidence" to back their health claims, including that it relieves "fatigue" and eases depression.
Consuming "large amounts" of mate "over prolonged periods" – as college students might do when studying – can put people at greater risk of mouth, esophageal and lung cancer, the clinic's Katherine Zeratsky wrote. That risk is "greatly" increased when they also smoke.
The Middlebury administration did not respond a Fix query about the health risks of the lone remaining energy drink approved for sale on campus.
Like The College Fix on Facebook / Follow us on Twitter
IMAGE: Keith Homan/Shutterstock, Dustin Henderlong/Flickr